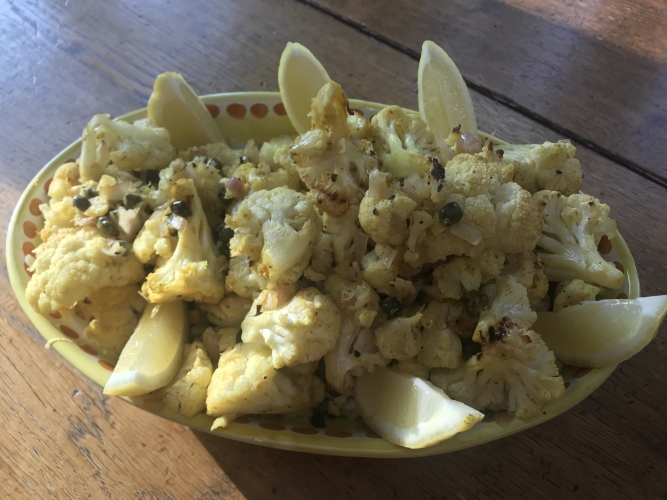 Ingredients
6 cups cauliflower flowerets, from 1 large head
2 tablespoon extra virgin olive oil
1 teaspoon curry powder
salt and ground black pepper, as desired
1/4 cup chopped shallot, 1 medium
2 tablespoons capers, drained and rinsed
1 tablespoon lemon zest
Preparation
Preheat oven to 400 F. Line baking sheet with parchment paper.
In a large bowl, combine cauliflower, olive oil, curry powder, salt (if desired) and pepper. Toss well and spread out onto prepared baking sheet in a single layer. Roast for 10 minutes or until slightly golden at the edges. Stir and roast an additional 5 minutes.
Sprinkle with capers, and shallot and toss cauliflower to distribute. Roast 10 minutes, then stir and roast an additional 5 minutes. Fold in lemon zest and transfer to serving dish.
Serve with lemon wedges to squeeze over cauliflower at the table.
Categories
Dairy Free
Gluten Free
Quick and Easy
Vegan
Vegetarian