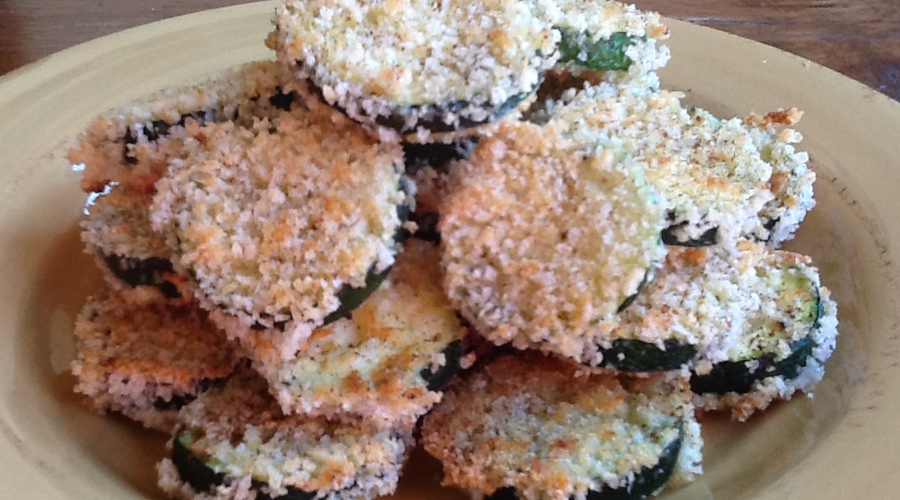 Ingredients
olive oil spray
1/2 cup panko bread crumbs, preferably whole wheat
1 egg
1 egg white
salt and lemon pepper seasoning
3 tbsp all-purpose flour
4 medium zucchini, thoroughly washed and cut into 1/8-inch diagonal slices
a little sprinkle of hot paprika
dash hot sauce, such as Tabasco
Preparation
Line two sheet trays with parchment paper. Preheat oven to 475 F.
Spray prepared sheet pans with olive oil.
Measure the bread crumbs into a shallow container. Place egg and egg white into another shallow container, whisk lightly.
Separate the zucchini slices into one layer and season with salt and lemon pepper. Dust zucchini with all purpose flour. Turn zucchini over and repeat seasoning and dusting on the other side.
Dip zucchini into the egg, then into the bread crumbs, turning each slice over to coat both sides evenly. Place zucchini in a single layer onto prepared sheet pans. Spritz generously with olive oil spray and sprinkle lightly with paprika.
Bake zucchini in preheated oven for 10 minutes, turn, sprinkle the other side with the paprika and bake an additional 5 minutes or until zucchini are tender on the inside and lightly golden and crisp on the outside. Serve immediately, with hot sauce if desired.