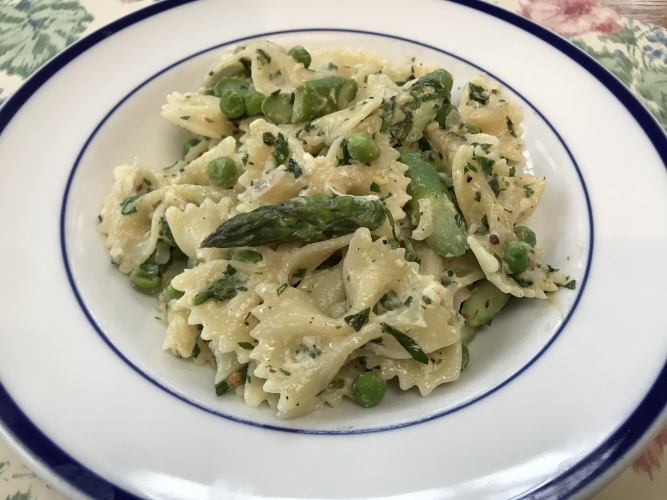 Ingredients
8 ounces your favorite pasta -such as farfalle, orecchiette, rotini (regular, whole grain or gluten free)
8 ounces asparagus (about 12-15 medium spears), tough ends removed, then diagonally sliced 1/2-inch thick, leave tips whole
3/4 cup frozen peas
1 Tablespoon extra virgin olive oil
1 Tablespoon butter (unsalted)
1/3 cup shallots, finely chopped (about 1 large shallot)
2 teaspoons garlic, finely chopped (about 2 medium cloves)
2 teaspoons lemon zest
2 Tablespoons lemon juice
dash of crushed red chili pepper flakes (if desired)
1/2 cup reserved pasta water
4 Tablespoons low-fat plain Greek style yogurt
1/4 cup grated Parmesan or Pecorino cheese (plus extra for serving, if desired)
1/4 cup Italian parsley leaves, finely chopped
1/4 cup basil leaves, finely chopped
1 Tablespoon tarragon leaves, finely chopped
salt and pepper, as desired
Preparation
Bring a large pot of salted water to a boil. Add pasta and cook according to package directions - except set the timer for 3 minutes less than desired cooking time. When the timer goes off, test one of the pieces of pasta to see if it is almost - but not quite perfectly done. If so, add the asparagus and peas and cook for 1 minute. Scoop out 1/2 cup of the pasta water and reserve. Drain pasta and veggies into a colander or strainer and set aside.
Return the pot to medium heat and add the olive oil and butter. When the butter has melted, add the shallots and cook about 1-2 minutes or until softened but not browned. Stir in the garlic and cook an additional minute. Add the chili pepper flakes (if using) and the lemon zest. Stir in the lemon juice, reserved pasta water and yogurt to make a smooth sauce.
Return the drained pasta with veggies to the pot and toss to coat. Add the cheese and herbs and toss again. Season with salt and pepper, as desired. Garnish with additional cheese when serving, if desired.
Categories
Grain
Plant-Based Protein
Vegetable
Quick and Easy
Vegetarian