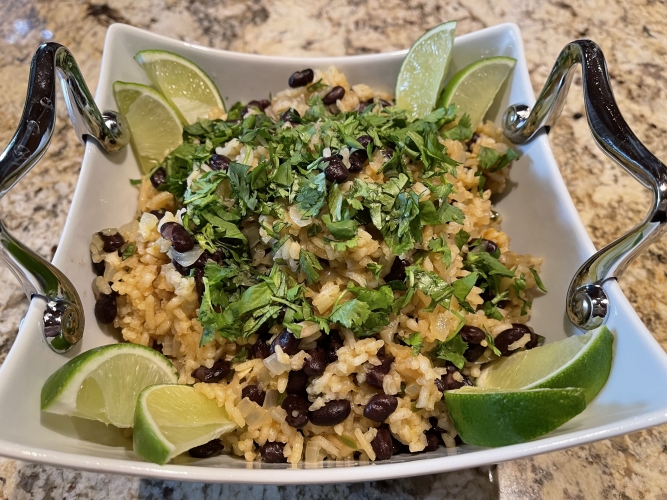 Ingredients
1 1/2 Tbs extra virgin olive oil
1 medium yellow onion, chopped
1 jalapeño pepper, seeded and finely chopped
3 cloves garlic, finely chopped
1 teaspoon ground cumin
1 cup long-grain rice, rinsed and drained
2 cups low sodium vegetable broth
1/4 teaspoon salt
1 15.5-ounce can black beans, drained and rinsed
1/4 cup cilantro leaves, chopped
1 lime, cut into wedges
Preparation
In a large saucepan that has a lid, warm the olive oil over medium heat. Add the onion and cook, stirring often until onion is soft but not browned, about 5-6 minutes. Add the jalapeño and cook another minute or 2. Add the garlic and cumin and cook an additional minute or until fragrant. Stir in the rice and coat the rice with the seasonings.
Add the vegetable broth, salt and beans. Stir gently to combine, then cover pot with lid. Bring to a gentle boil then reduce heat to a very low simmer. Allow to cook without stirring for 15-20 minutes. Remove from heat and allow to rest for a few minutes then fluff with spoon or fork. Season to taste with additional salt and pepper.
Transfer to serving dish and garnish with chopped cilantro and lime wedges as desired. Feel free to serve with diced tomatoes, additional chopped jalapeños, or your favorite salsa.
Categories
Grain
Plant-Based Protein
Dairy Free
Gluten Free
Quick and Easy
Vegan
Vegetarian