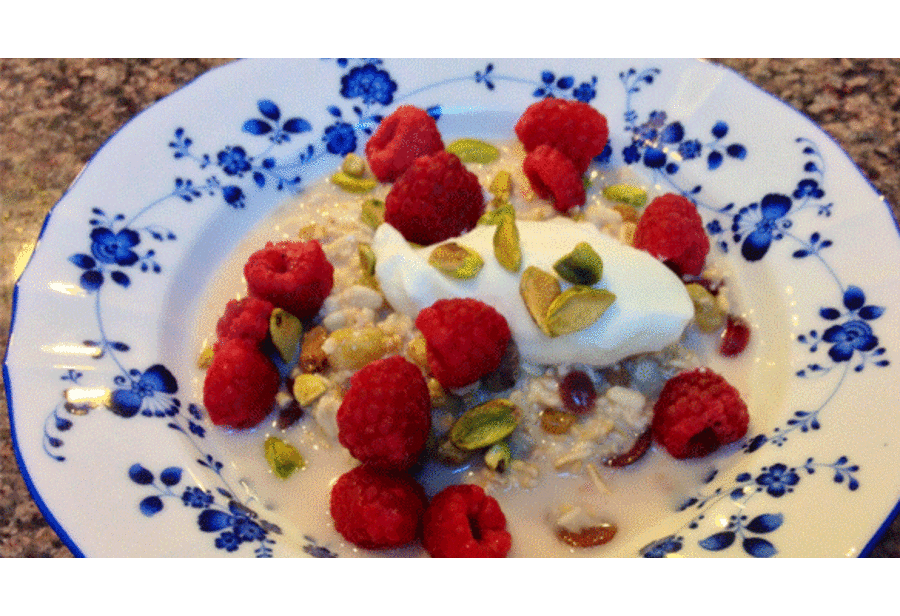 Ingredients
2 tablespoons steel cut oats, gluten free if desired
2 tablespoons old fashioned rolled oats, gluten free if desired
2 heaping tablespoons dried chopped apricots
2 heaping tablespoons dried sweet cherries, such as the slightly tart Montmorency
1 cup plain almond milk
1/2 teaspoon cinnamon
1 cup nonfat plain yogurt
2 heaping tablespoons chopped walnuts or your favorite nuts
*Meets Cardiac Rehab/MetFit guidelines.
Preparation
Combine all the oats and dried fruits in a bowl. Sprinkle with cinnamon.
Heat the milk on high power in the microwave for 2 minutes or in a small saucepan on the stove top.Pour over the oatmeal mixture and stir. Allow to sit at room temperature for 30 minutes.
Top the soaked oatmeal with yogurt. Sprinkle with walnuts, cover and refrigerate overnight or for at least 2 hours.
Divide mixture into two bowls and serve as is or add additional fresh fruit such as blueberries, raspberries, strawberries, and bananas!
For a grab and go breakfast divide the recipe ingredients between two containers with tight-fitting lids.
Categories
Fruit
Grain
Plant-Based Protein
Cardiac Rehab
MetFit
MHealthy