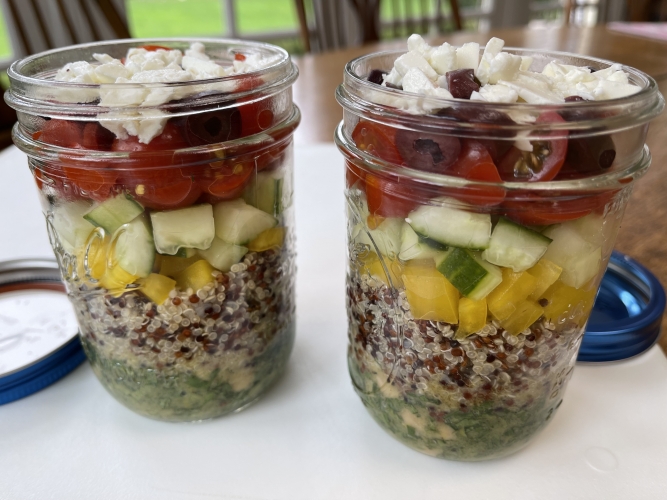 Ingredients
1/2 cup uncooked (dry) quinoa
pinch of salt, if desired
2 teaspoons Dijon mustard
1 teaspoon honey
1 teaspoon lemon zest
pinch of salt, as desired
freshly ground black pepper, to taste
2 Tablespoons lemon juice
2 Tablespoons extra virgin olive oil
2 Tablespoons parsley leaves, chopped
1 teaspoon dill, chopped
2 teaspoons mint, chopped
2 Tablespoons chives, chopped
1/2 cup canned garbanzo beans, drained and rinsed
1/2 cup yellow (or red or orange) bell pepper, seeded and diced
1/2 cup cucumber, partially peeled, seeded and diced
1 cup cherry or grape tomatoes cut into quarters (or 1 cup diced tomatoes)
6 kalamata olives, sliced
2 Tablespoons feta cheese, crumbled or diced
Preparation
Rinse quinoa in a fine mesh strainer. Place into saucepan with about 2 cups of water and a pinch of salt, if desired. Bring to a boil, reduce heat to a simmer and cook for about 15-20 minutes or until a small ring or little halo appears around the grains. Drain and return to pan off of the heat and allow to sit about 5 minutes. Quinoa can be cooked ahead of time and refrigerated until ready to use.
In a medium bowl, stir together the mustard, honey, lemon zest, salt, pepper, and lemon juice. Whisk in the oil. Add the chopped herbs and stir to combine.
Divide the dressing between 2 mason jars. Put 1/4 cup of the garbanzo beans over the dressing in the jars. Divide the cooked quinoa and spoon over the beans. Next, add a layer of the chopped peppers, then the chopped cucumber and top with the tomatoes. Put the olives and cheese on the top. Cover and refrigerate until ready to enjoy. Dressing may be a bit solid if taking right out of the refrigerator - so allow to warm up a bit. Before eating, invert the jars to distribute the dressing over the quinoa and veggies or pour the whole jar into a bowl or onto a plate and toss to combine. Salads can be assembled and refrigerated for up to 3 days.
Categories
Grain
Plant-Based Protein
Vegetable