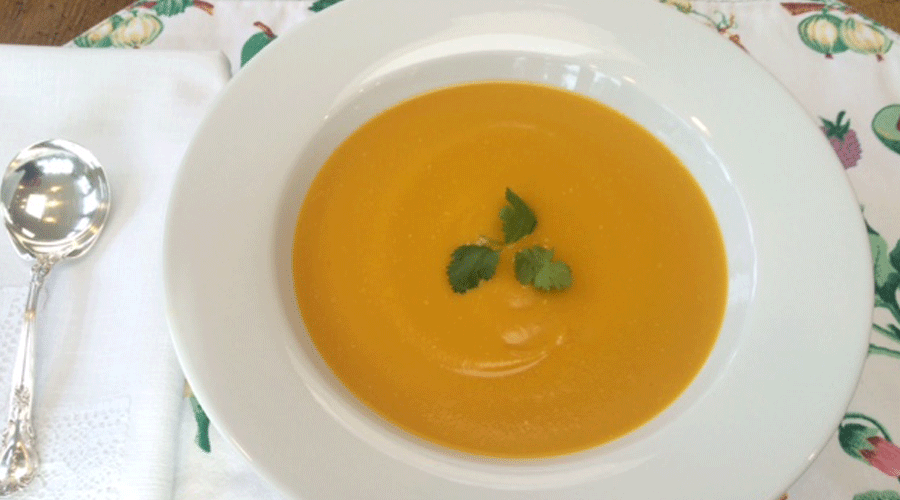 Ingredients
*Meets low FODMAP/GI guidelines.
1 tablespoon olive oil
1 small celery root, diced, 1 generous cup
1 pound carrots, peeled and chopped, 3 generous cups
2 teaspoons peeled and chopped ginger root
2 tablespoons white rice
6 cups low sodium vegetable stock or chicken broth
1 teaspoon orange zest
1/4 cup orange juice
1/4 cup coconut milk
1/8 teaspoon cayenne pepper or as desired
salt, as desired
Preparation
In a large saucepan warm olive oil over medium heat. Add celery root and saute, stirring often so it does not brown, for about 5 minutes. Add carrots and continue to cook an additional 5 minutes. Add rice and ginger root and continue to cook a few more minutes. Pour in stock and bring to a boil. Reduce heat to a simmer, partially cover and cook until carrots are tender, about 20 - 30 minutes.
Remove from heat and add orange zest, orange juice and coconut milk. Puree in blender in batches until smooth. Be careful when blending that hot liquids do not splash and burn you.
Season with cayenne pepper and salt to taste. Reheat gently if needed and ladle into bowls. Serve garnished with a sprinkle of your favorite herb such as cilantro, parsley or chives.
Notes: Swirl a little plain yogurt or sour cream on top as an optional garnish Garnish with herb of choice such as cilantro, parsley or chives
Does not meet MHealthy guidelines.
Categories
Dairy Free
Gluten Free
Vegan
Vegetarian