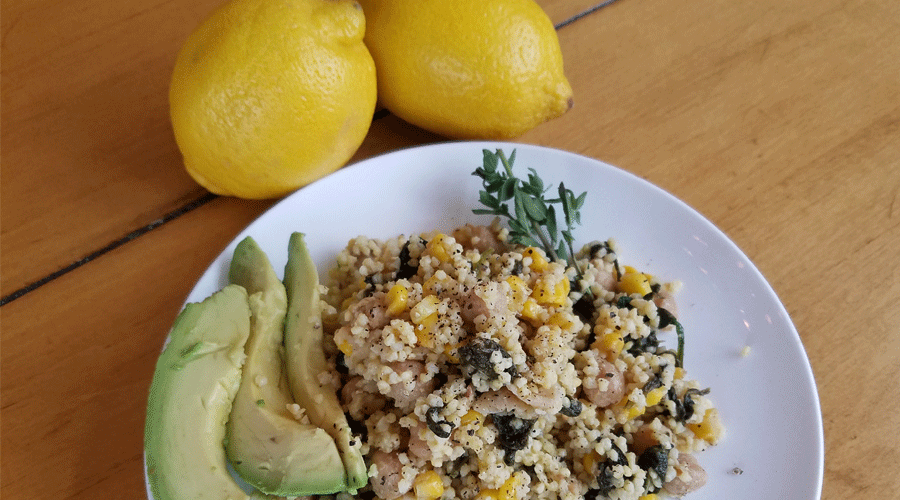 Ingredients
3 cups cooked millet, (see below)
1 tablespoon avocado oil
1 cup chickpeas, drained and rinsed
1 1/2 cup fresh or frozen corn
1 teaspoon cumin
2 cloves garlic, minced
1/2 teaspoon dried oregano
salt and ground pepper
7 cups spinach, chopped
3 tablespoons lemon juice
1 teaspoon lemon zest
3 tablespoons olive oil
Optional: avocado slices
*Meets GI guidelines.
Preparation
To cook millet: Measure and rinse 1 1/4 cup of dry millet in a strainer. Shake dry. Add to medium pot and add 3 cups of water and a large pinch of salt. Cover and bring to a simmer, until almost all the water has evaporated and you see tiny water bubbles on the top. Turn off heat and keep covered, 30 minutes. Fluff with fork.
Pour 1 tablespoon of avocado oil into a large skillet over medium heat. Once hot, add the chickpeas and cook for 5 minutes, stirring occasionally. Add the corn and cook for 5 -7 minutes or until the chickpeas and corn start to turn brown. Add the cumin, garlic, dried oregano and a pinch of salt and pepper. Stir for about 30 seconds or until garlic is fragrant and then stir in spinach and cook until wilted (about 2-3 minutes).
Remove from heat and toss with 3 cups of cooked millet, then refrigerate uncovered until fully chilled.
Combine the lemon juice, lemon zest, olive oil and pinch of salt and pepper in a jar and shake vigorously to combine.
Pour dressing over the chilled millet mixture and toss to coat. Taste and adjust salt and pepper. Finish each serving with avocado slice if desired.
Does not meet MHealthy guidelines.
Categories
Grain
Plant-Based Protein
Vegetable
Gluten Free
Vegan
Vegetarian