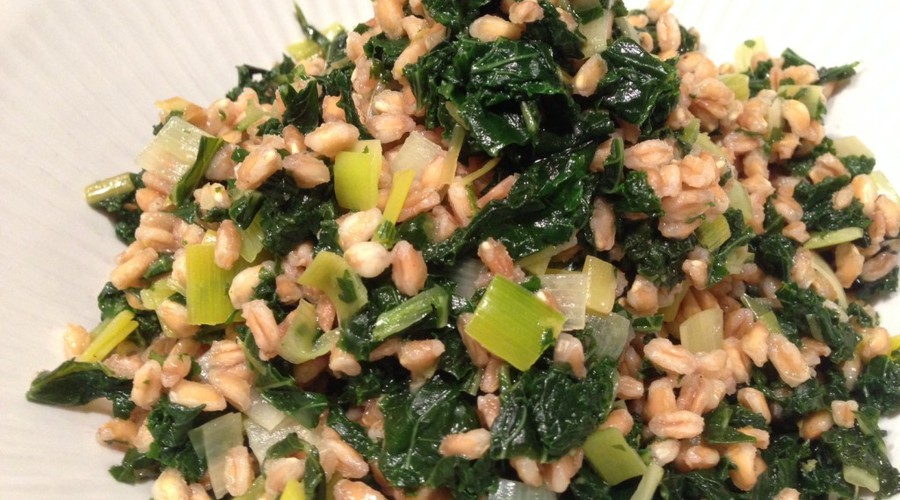 Ingredients
4 cups low sodium vegetable broth
1 1/4 cups semi pearled farro, about 8 ounces
1 1/2 pounds kale, center ribs and stem removed and thoroughly washed
1 tablespoon extra virgin olive oil
1 cup leeks, chopped
1 cup diced celery root
1/4 cup thinly sliced scallions
2 teaspoons honey
2 teaspoons lemon zest
salt and ground black pepper, to taste
Preparation
In a medium saucepan, bring the veggie broth to a boil. Add the farro, return to a boil, turn down the heat and allow to simmer 13 minutes or until firm-tender. Drain and reserve the broth.
Cook kale in a large pot of boiling salted water for 1 minute. Drain and submerge in ice water to retain the color. Drain, chop and set aside.
In a medium skillet warm the olive oil over medium heat. Add the leeks and cook until wilted, about 4 minutes; add the celery root and cook an additional 5 minutes. Add kale and cook 2 minutes. Add reserved broth and bring to a boil. Reduce heat to a simmer and continue to cook until the kale is tender and almost all of the broth is absorbed, about 20 minutes. Mix in farro and cook until heated through. Stir in scallions, honey and lemon zest. Taste and adjust seasonings and serve.
Categories
Dairy Free
Vegan
Vegetarian