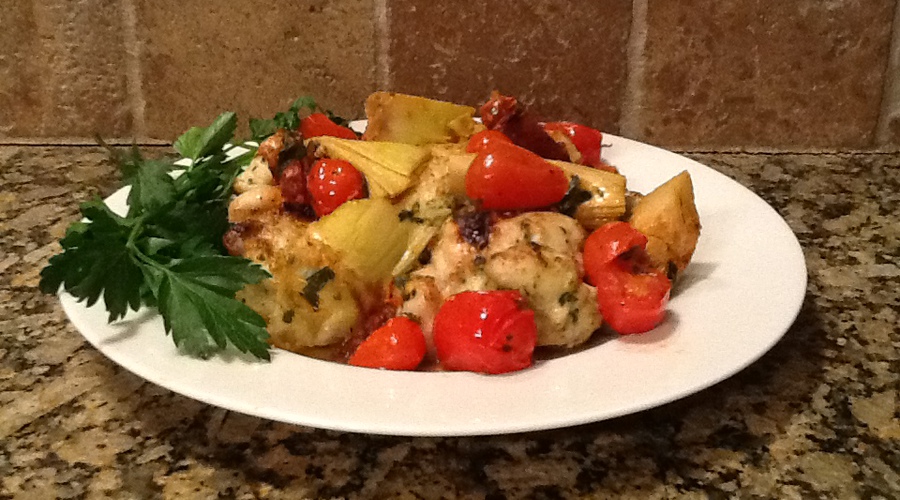 Ingredients
4 chicken breast halves without skin or bone
1 clove garlic, peeled and coarsely chopped
1 teaspoon herbes de Provence
2 tablespoons fresh parsley, coarse stems removed
1 tablespoon lemon zest
1/4 teaspoon salt
1/2 teaspoon ground black pepper
2 tablespoons extra virgin olive oil
1 teaspoon honey
1 cup low sodium chicken broth
1/4 cup sun-dried tomato halves, cut julienne
1 cup cherry tomatoes, cut in half
1 1/2 cups artichoke hearts, quartered, drained and squeezed of excess juice
1 teaspoon herbes de Provence
1 teaspoon lemon zest
2 tablespoons chopped fresh parsley
salt and pepper to taste
Preparation
Rinse chicken breasts and pat dry. Trim off excess fat. Cut each breast half into 3 sections; remove the thin end by slicing in half on the diagonal. Cut the thick end crosswise into two thinner medallions. Set aside.
In a small food processor, combine the next 8 ingredients, for the rub. Process to a smooth paste. Rub paste over chicken medallions and set aside on a plate or in a in a zip-seal bag for at least 1 hour or overnight.
To make the sauce, heat the chicken broth to boiling in a medium-size skillet, and continue to boil until reduced to 1/2 a cup. Add the remaining ingredients to the skillet. Return to the boil, cover and simmer gently for about 3 minutes. Taste and adjust seasonings.
Meanwhile, preheat broiler. Arrange chicken in a single layer on a foil-lined broiler pan. Broil on the top rack for 3 minutes per side or until a meat thermometer inserted into the thickest part of the chicken registers 160 F. Divide chicken between 4 plates and top with sauce.
Serving Ideas: Delicious with oven roasted potatoes or a mixed mash of Yukon golds, sweet potatoes andd steamed fresh broccoli!