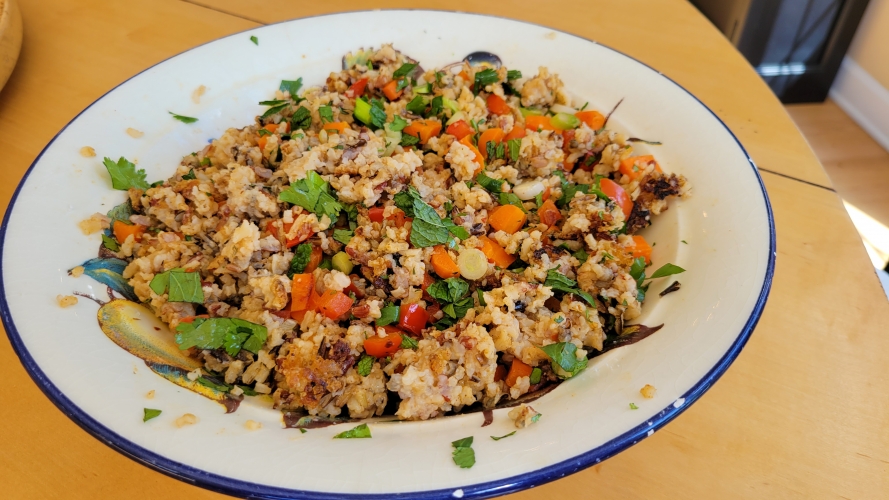 Ingredients
1 1/2 cups red rice or mixed rice blend, rinsed and drained
3 cups water
1/2 teaspoon salt
1 tablespoon plus 1/2 teaspoon ground harissa, divided
1 medium red bell pepper, diced
4 medium carrots, diced, about 1 cup
1/2 cup green onion, chopped
1/2 cup cilantro leaves, chopped
1/2 cup mint leaves, chopped
3 Tablespoons olive oil, divided
Juice of 1 lime
Preparation
In a medium saucepan, combine, rice, water, 1/2 teaspoon of salt and 1 tablespoon ground harissa. Bring to a boil and reduce heat to low and cover. Cook for 20 minutes or until almost all the water is evaporated and their are tiny bubbles on the surface of the rice. Turn off heat and leave the lid on. Let sit for 15 minutes. Fluff with fork.
In a medium saute pan, warm 1 tablespoon olive oil to med. high. Add the diced red pepper and carrot, stirring occasionally until the vegetables start to soften. Add the 1/2 teaspoon ground harissa to the vegetable mixture and combine, cooking another 2 minutes. Scoop vegetables into a bowl and set aside.
In the same medium saute pan, warm 2 tablespoons olive oil to med. high, coating the bottom with the oil. Add the fluffed rice and spread out evenly to cover the bottom and sides of the pan. Continue to cook, without disturbing, about 15 to 20 minutes, checking after 10 minutes to make sure bottom is browning nicely. but not burned. You may need to turn up the heat at this point. When rice at the bottom of pan is nice and crispy, turn off heat and let cool for 7-8 minutes. This will help the rice release easier from the pan.
When the rice has cooled, using a spatula, lift the crispy rice out of the pan into a large serving bowl. Add the vegetable mixture to the top, along with the herbs and green onions. Mix gently, breaking up the crispy rice bits evenly in the bowl. Before serving, drizzle with lime juice. Season with salt and pepper as desired.