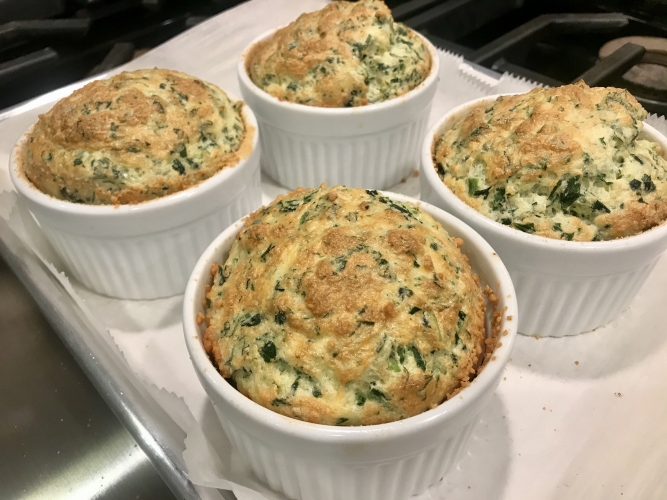 Ingredients
1 Tablespoon butter
1 1/2 Tablespoons grated Pecorino cheese
1/4 cup shallots, finely chopped
1 1/2 Tablespoons all-purpose flour (gluten free if desired)
dash of nutmeg
small dash of cayenne pepper
1/2 cup low fat milk or your favorite dairy-free alternative such as unsweetened almond milk
6 ounces chopped frozen spinach, thawed and squeezed of excess moisture, finely chopped
2 egg yolks
2 Tablespoons grated Pecorino cheese
1 1/2 ounces or 1/2 cup grated Manchego cheese
3 egg whites
Preparation
Preheat oven to 400 F. Set 4 1-cup ramekins onto a small sheet pan.
Melt the butter in a medium (preferably non-stick) saucepan over medium/low heat. Remove from heat and brush the inside of each ramekin with small amount of the melted butter. Pour 1 1/2 tablespoons of the grated Pecorino cheese into the first buttered ramekin. Tip and rotate that ramekin over the next one to coat the bottom and sides of the ramekin with the cheese. Continue with the remaining ramekins until all are coated. Set aside.
Return the saucepan with the remaining butter to the medium/low heat and add the shallots. Cook for 2-3 minutes, stirring often until softened but not browned. Stir in the flour. Add the nutmeg and cayenne and stir again. Cook for another minute or so. Gradually add the milk, stirring to dissolve the flour and to create a smooth sauce. Continue to cook for a few minutes, stirring until thickened. Remove from heat.
Place the egg yolks into a small bowl (reserve the whites). Gradually stir half of the milk mixture into the egg yolks to temper the yolks so that they don't scramble. Then add the egg/milk mixture back to the saucepan and stir well. Mix in the spinach, remaining Pecorino and Manchego cheeses.
Beat egg whites (best at room temperature) in a clean mixing bowl until stiff peaks form. Gently stir 1/4 of the whipped whites into the spinach mixture. Then add the lightened spinach mixture back to the bowl of whipped egg whites and fold to combine trying not to lose the volume of the whipped whites. Lightly spoon the mixture evenly into the 4 prepared ramekins - they will be a bit more than half full. Place back onto sheet pan and bake for 15-20 minutes or until puffy and lightly browned. Test doneness by inserting a clean, sharp paring knife into the middle of one of the souffles and it should come out clean rather than wet and sticky. Serve immediately. Be careful as the ramekins will be very hot! The souffles will fall as they cool - but will still be delicious!!! Even the leftovers can be covered, refrigerated and reheated in the microwave for a minute. Voila!