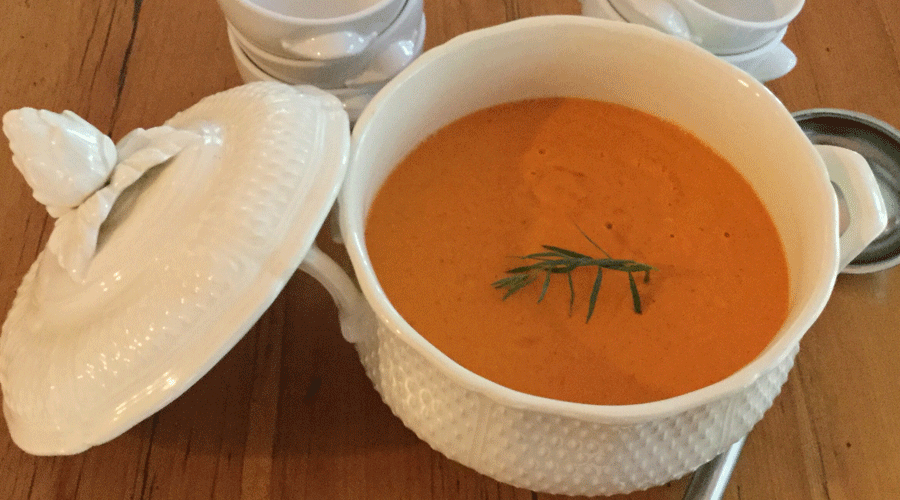 Ingredients
*Meets GI guidelines.
1 tablespoon garlic infused extra virgin olive oil
6 cups diced tomatoes, or canned diced low sodium tomatoes
1 roasted red pepper, freshly roasted or from a jar, diced
1 teaspon fresh chopped tarragon or 1/2 teaspoon dry tarragon
1/4 teaspoon crushed red pepper flakes or to taste
1/2 teaspoon salt or as desired
2 teaspoons sugar
1 cup almond milk
2 ounces soft goat cheese
sprig of fresh tarragon, for garnish
Preparation
Measure the olive oil into a large soup pot over medium heat. Add the tomatoes, roasted red pepper, tarragon, pepper flakes, salt and sugar.
Bring to a gentle simmer, cover and cook for about 30 minutes or until all ingredients are well blended. Pour in the almond milk. This will cool the mixture and make it easier and safer to blend.
Ladle mixture into a blender, do this in two batches and blend until smooth. Repeat with the remaining mixture. Add the goat cheese and pulse to combine.
Return mixture to the saucepan and gently reheat. Serve garnished with a sprig of fresh tarragon.