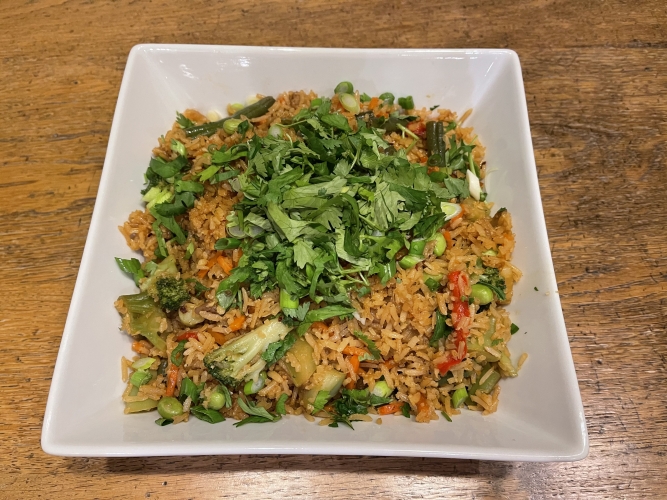 Ingredients
1 Tablespoon avocado oil
1 pound frozen stir fry vegetable blend
2 cloves garlic, finely chopped
1 Tablespoon fresh ginger, peeled and finely chopped
4 cups cooked brown rice
1/2 cup shelled edamame
2 Tablespoons low sodium tamari or soy sauce
1 Tablespoon honey
2 Tablespoons unseasoned rice vinegar
1/4 teaspoon crushed red pepper flakes, or as desired
1 Tablespoon toasted sesame oil
2 scallions, green and white parts, thinly sliced
3 Tablespoons cilantro leaves, coarsely chopped
Preparation
Warm a large skillet or wok over medium heat. Add avocado oil then the frozen veggies (be careful as it might splatter a bit). Cook for about 8 minutes, stirring often, until tender but still a bit crisp. Add the garlic and ginger and cook another minute until fragrant. Stir in the rice and combine with the veggies. Add the edamame.
In a small bowl combine the tamari, honey, rice vinegar, red pepper flakes and sesame oil. Pour the mixture over the rice and veggies and toss well to coat and season everything. Taste and adjust flavors as desired. Garnish with sliced scallions and chopped cilantro.
Feel free to add your favorite proteins such as diced cooked chicken, turkey, beef, pork, shrimp or tofu. It is also very traditional to add scrambled egg - but this is our vegan version which is quite delicious as is! If adding additional proteins - do so at the end of step 1.
Categories
Dairy Free
Gluten Free
Quick and Easy
Vegan
Vegetarian