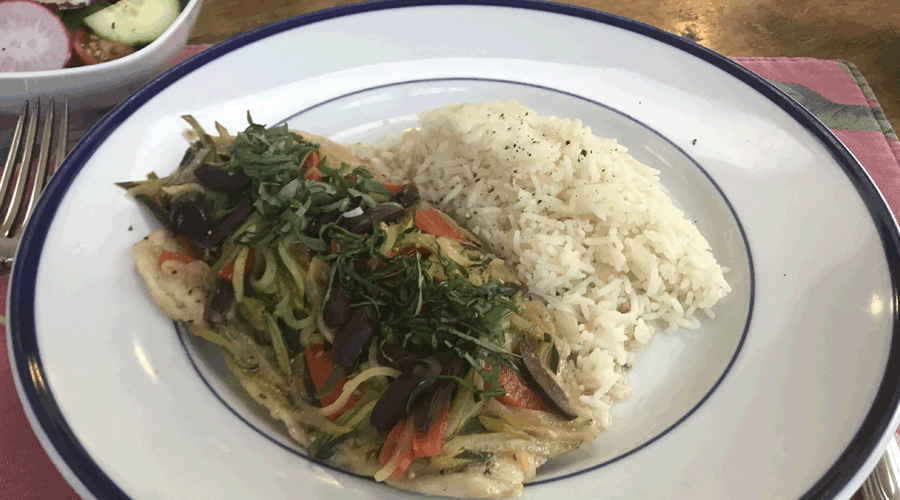 Ingredients
1 tablespoon extra virgin olive oil
2 cups thinly sliced yellow onion, about 1 medium onion
2 cloves garlic, chopped
1/2 cup orange or yellow bell pepper, seeded and thinly sliced
3/4 cup tomatoes, seeded and diced
pinch sea salt
dash red pepper flakes
1/2 teaspoon dried oregano
4 kalamata olives, pitted and sliced
12 ounces fish fillets, 2 6-ounce portions, such as Barramundi
dash paprika, salt and pepper
1/4 cup dry white wine or water
1/4 cup thinly sliced basil leaves
*Meets Cardiac Rehab guidelines.
Preparation
Preheat oven or grill to 450 degrees F. Cut 2 large pieces, 18"x18", of heavy duty aluminum foil and place on counter top. Cut 2 pieces of parchment paper to line the aluminum foil, lightly spray or oil center of parchment paper.
In a medium skillet, warm olive oil over medium heat. Add onion and cook until starting to soften, 5-7 minutes.
Add garlic, bell pepper and tomatoes and cook an additional 5-7 minutes. Add a pinch of salt, red pepper flakes and the oregano. Stir to combine flavors. Remove from heat.
Place one fish fillet, skinned side down, in the center of each parchment-lined piece of foil. Season as desired with salt, pepper and paprika.
Top each fillet with half the vegetable mixture. Dot with the sliced olives. Drizzle each with 2 tablespoons of white wine or water. Fold the parchment and foil over the fish, sealing at the edges, leaving a little extra space to allow the ingredients to steam as it cooks.
Place sealed packets on baking sheet if cooking in oven or on the grill with the folded, sealed side up. Cook for 15 minutes or longer if using a thicker cut of fish. Be careful when opening the packets as the steam will escape and be hot. Sprinkle with fresh basil before serving.