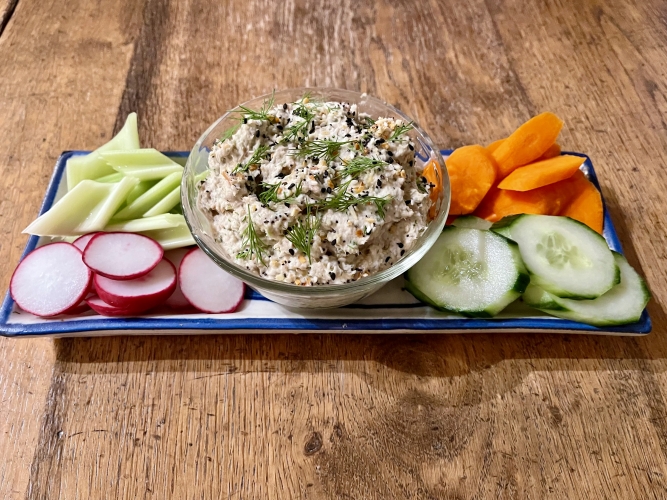 Ingredients
8 ounces smoked trout fillets
1/4 cup plain low-fat Greek yogurt 2%
1/4 cup mayonnaise
2 teaspoons dijon mustard
1 Tablespoon prepared horseradish
1 teaspoon Worcestershire sauce
1 scallion, finely chopped
1 Tablespoon fresh dill, plus a bit extra for garnish
zest of 1 lemon, about 2 teaspoons
1 Tablespoon lemon juice
1 Tablespoon capers, drained and rinsed
2 teaspoons Everything-Bagel seasoning
dash of hot sauce, or more if desired
Preparation
Remove the skin from the fish fillets (discard skin), break up fish into pieces and set aside.
In the bowl of a small food processor, add the yogurt, mayo, mustard, horseradish, Worcestershire, scallion, dill, lemon zest, lemon juice and capers. Pulse to combine. Add the fish and pulse again to combine. Scrape down sides of the bowl and add the everything-bagel seasoning, and the hot sauce then pulse again to blend all of the flavors. The ingredients are quite salty, so no need to add any - but feel free to add more pepper if desired. Serve chilled.
This is more of a spread and can be served with crackers, pita wedges, bagel chips or crisp freshly sliced vegetables such as carrots, cucumbers, celery, and radishes. Cover and refrigerate for up to a week. Feel free to add more yogurt if you like it to be lighter and a bit more loose for dipping. Also great as a sandwich spread, bagel topping or scoop of salad on a bed of greens.
Categories
Appetizer
Breakfast
Lunch
Sandwich
Snack
Gluten Free
Quick and Easy