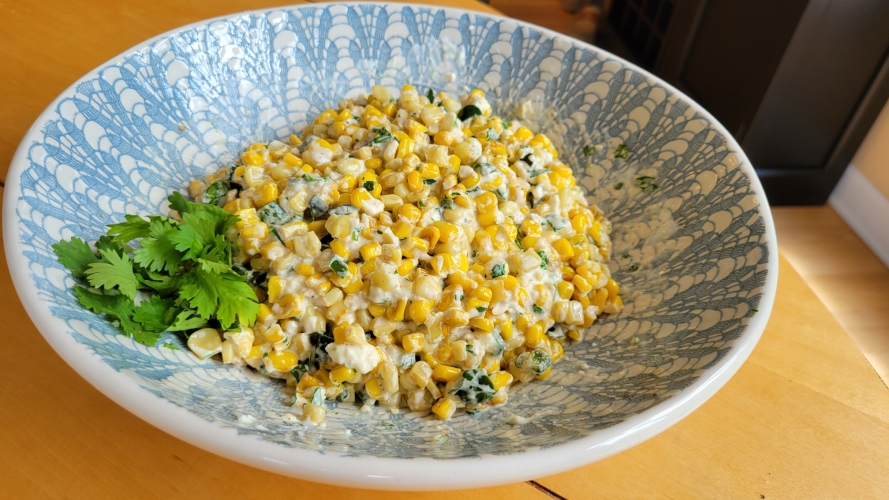 Ingredients
2 pounds frozen corn kernels(or fresh if corn is in season)
1 medium poblano pepper, diced
1/2 cup greek yogurt
1/2 cup sour cream
2 teaspoons finely grated lime zest
1/4 cup fresh lime juice
1/2 to 1 teaspoon ancho chile powder(depending on amount of heat desired)
3/4 cup crumbled queso fresco cheese
1/2 cup cilantro, chopped
Salt and ground pepper to taste
1 tablespoon olive oil
Preparation
In a large saute pan, set to medium heat, warm olive oil and add diced poblano pepper. Saute, stirring occasionally, until pepper is starting to soften, about 5-6 minutes.
Add frozen or fresh corn to the same pan and combine with poblano pepper. Turn heat to medium high and cook 8-9 minutes, stirring every 3 to 4 minutes. Halfway through, the mixture should start to brown. At the 9 minute mark, add the ancho chili powder and mix thoroughly. Continue cooking for another minute or two. Turn off heat and set aside.
In a large bowl, mix the greek yogurt, sour cream, lime zest, lime juice, cheese and cilantro; season with salt and pepper.
Add the corn and poblano pepper to the cheese mixture and stir to combine. Taste for seasoning. Serve warm or at room temperature. Makes a great side dish to tacos or serve with tortilla chips for a great cheesy corn dip!