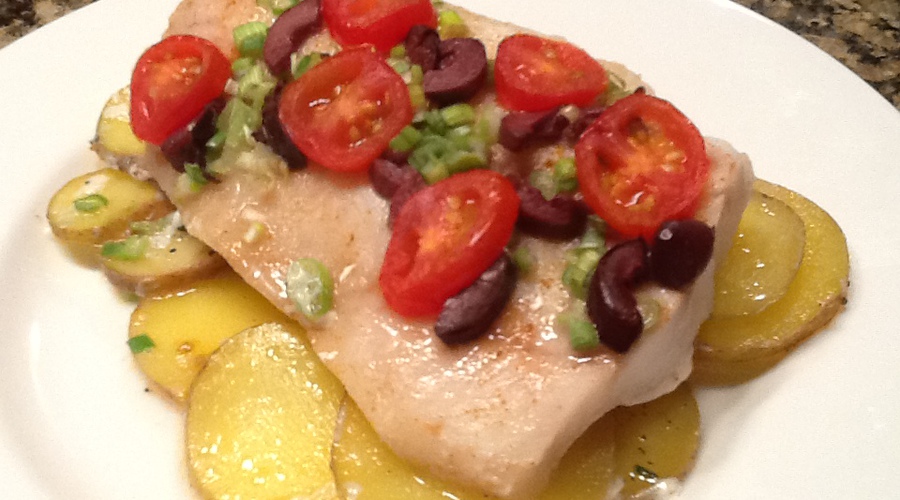 Ingredients
8 ounces Yukon Gold potatoes, about 2 small, scrubbed and patted dry
4 teaspoons extra virgin olive oil, divided
1 teaspoon fresh thyme leaves or 1/2 teaspoon dry
Salt and ground pepper as desired
20 ounces fish fillets, such as black cod or halibut, skinned, portioned into 4 servings
1/2 teaspoon paprika
2 tablespoons chopped scallions
2 tablespoons kalamata olives, pitted and sliced
8 cherry tomatoes, sliced
Preparation
Place a baking sheet on the bottom rack of the oven. Preheat oven to 400 F.
Cut potatoes into very thin slices, using a mandolin or a vegetable slicer. In a small bowl, toss potatoes with 2 teaspoons of the olive oil, thyme, salt and pepper.
Cut parchment paper into 4 -15 x 12-inch rectangles. Fold parchment paper in half widthwise, open parchment and spray the right side lightly with olive oil. Place 1/4 of the potatoes onto each oiled side of the parchment in an overlapping pattern, making a double row about 5 slices long. Top potatoes with a piece of fish. Sprinkle fish with salt and paprika. Top fish with scallions, olives, then sliced tomatoes. Fold other side of parchment over to create an envelope. Fold edges of parchment paper, overlapping each fold with the next one. Twist the ends to tightly seal the package.
Place packages onto hot baking sheet, potato side down. Cook 18 - 20 minutes or until potatoes are tender.