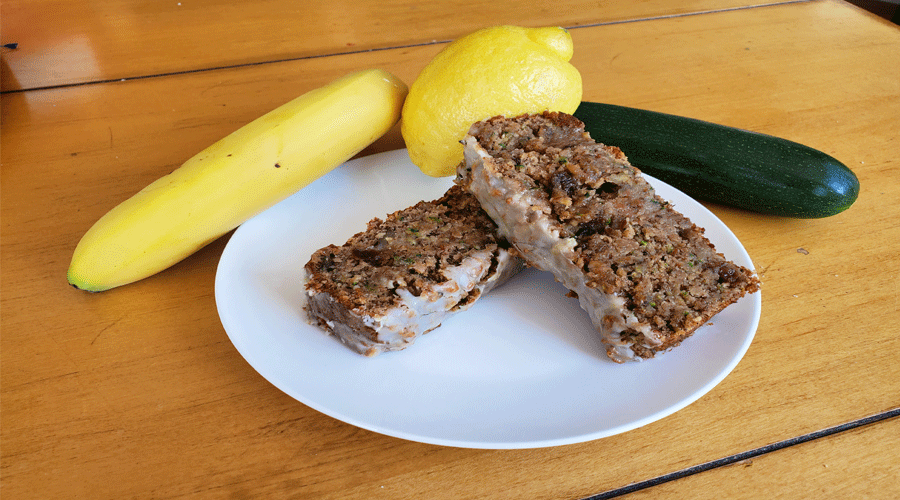 Ingredients
1/2 cup walnuts, chopped
2 medium bananas, mashed
1/2 cup packed dark brown sugar
1/3 cup avocado oil or olive oil
2 teaspoons lemon zest
2 teaspoons vanilla extract
2 small zucchini, shredded to yield 2 cups, squeezing out excess water
1/3 cup raisins
3/4 cup flour, gluten free if desired
3/4 cup almond meal
1/2 cup oat flour
1 teaspoon baking powder
1/2 teaspoon baking soda
1 teaspoon cinnamon
1/2 teaspoon nutmeg
1/2 teaspoon ground ginger
1/2 teaspoon allspice
*Meets GI guidelines.
Preparation
Preheat oven to 350 degrees. Lightly oil a 9 X 5 loaf pan, line with parchment paper, if desired.
Toast walnuts 5 minutes in preheated oven. Set aside to cool, then coarsely chop.
In a large bowl, whisk bananas, sugar, olive oil, vanilla and 2 teaspoons of lemon zest. Stir in zucchini and raisins using a rubber spatula.
In a small bowl, whisk together dry ingredients and walnuts.
Add dry ingredients to wet ingredients and stir until combined. Do not overmix. Transfer the batter to the prepared loaf pan.
Bake in preheated oven, rotating pan after 30 minutes to ensure even cooking. Continue to bake for an additional 15-20 minutes or until toothpick or clean sharp knife inserted into the center of the loaf comes out clean.
Place the pan on a rack and cool 15-20 minutes. Loosen bread around the edges with a knife, then invert bread onto a cooling rack.
To make the optional glaze, combine 1 teaspoon of zest with some powdered sugar, adding just enough lemon juice to make the mixture the consistency of honey.
To serve, slice loaf into 11 pieces and then slice each in half lengthwise.
This recipe does not meet MHealthy Nutrition Guidelines.
Categories
Fruit
Grain
Plant-Based Protein
Gluten Free
Vegan
Vegetarian