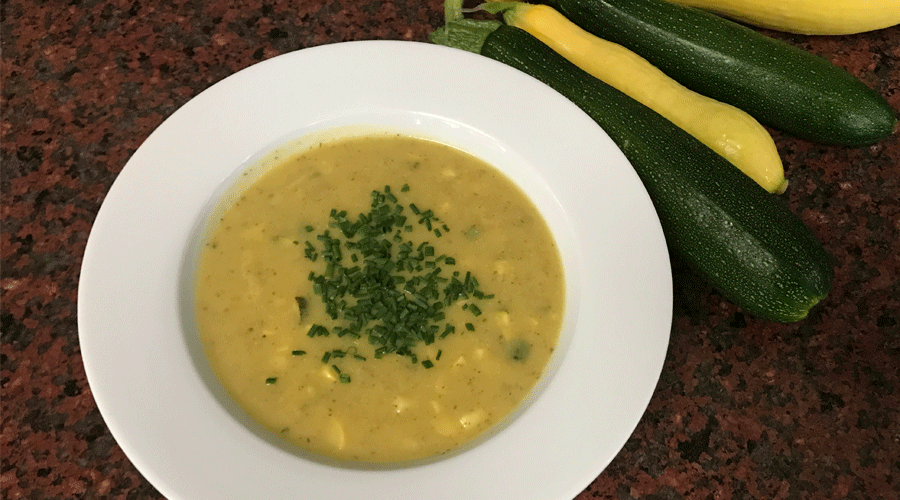 Ingredients
1 tablespoon extra virgin olive oil or avocado oil
2 cups chopped onion, 1 medium onion
2 medium leeks, thoroughly washed & chopped (see note below), 2-3 cups
1 tablespoon minced garlic, 2-3 cloves
4 cups chopped zucchini plus plus 1/2 cup zucchini, cut into small dice, about 2-3 medium zucchini
4 cups chopped yellow squash plus 1/2 cup yellow squash, cut into small dice, about 2-3 medium
2 tablespoons uncooked white rice
6 cups low sodium vegetable broth or low sodium chicken stock
1/4 cup fresh dill, chopped
3 tablespoons fresh lemon juice
Sea salt and freshly ground black pepper, to taste
Fresh snipped chives for optional garnish
Preparation
Note: Remove the dark green portion of each leek. To wash leeks, cut off the root end close to where the layers of the leeks meet. Cut leeks in half lengthwise and wash thoroughly under running water to remove any sand and grit.
In a large soup pot warm the oil over medium heat. Add onion and leeks, cook about 5 minutes until softened. Add garlic, chopped zucchini, chopped yellow squash and rice then cook an additional 5 minutes. Stir in the stock and dill. Bring to a boil then reduce heat to a simmer. Cook, covered, for 30 minutes. Allow soup to cool before blending.
Puree in a batches in a blender until smooth. Return soup to the pot and add 1/2 cup diced zucchini, 1/2 cup diced yellow squash, and lemon juice. Taste and season with salt and pepper as desired. Reheat soup and simmer an additional 10 minutes. Ladle into bowls and garnish with fresh snipped chives.
Categories
Dairy Free
Gluten Free
Vegan
Vegetarian