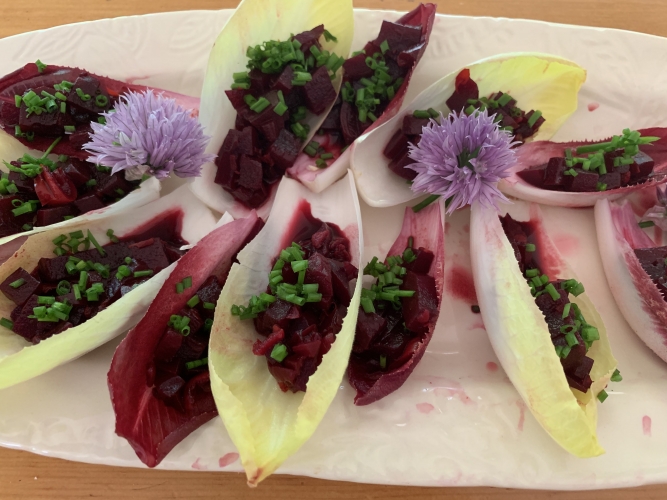 Ingredients
2 large beets
1/2 cup water
1/4 teaspoon salt, or as desired
3 tablespoons balsamic vinegar
3 tablespoons pepperoncini peppers
2 tablespoons strained water from the beets after they've been roasted
1/4 teaspoon ground black pepper
2 heads Belgium endive
1/4 cup chopped chives
Meets MetFit guidelines.
Preparation
Preheat oven to 375F
Halve each beet then cut each half into thirds. Place in a single layer into an ovenproof shallow pan with a lid. Pour in a 1/2 cup of water. Tightly seal the pan using parchment paper or aluminum foil if the lid does not fit snugly. Bake in the preheated oven until beets are tender, usually 45 minutes to an hour. Remove from heat and allow to cool, slip off the skin, which should be done easily with your hands (wear gloves if you don't want to color your hands red). Dice beets into small cubes and place into a medium bowl. Set aside.
Combine the balsamic vinegar, pepperoncini peppers, and strained beet water (or plain water). Pour dressing over beets, taste and adjust seasonings as desired.
Separate the endive leaves from the head and lay them out on a serving platter. Spoon 2-3 teaspoons of beet mixture into each endive leaf. Sprinkle each beet boat with chopped chives and serve.
Categories
Appetizer
Side Dish
Snack
Dairy Free
Gluten Free
Quick and Easy
Vegan
Vegetarian