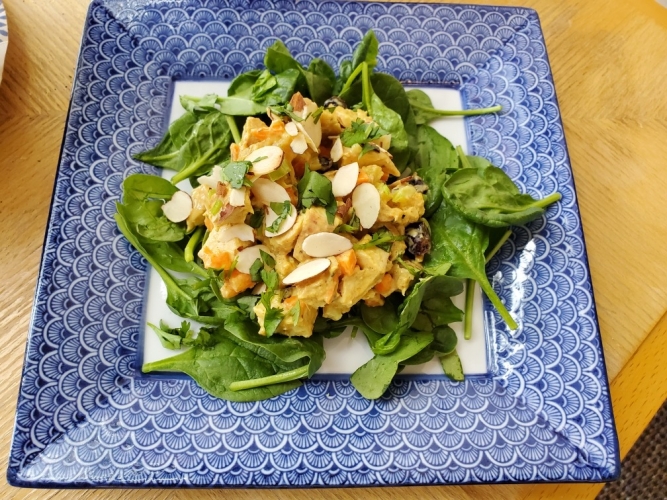 Ingredients
1/4 cup nonfat plain yogurt, drained
1/4 cup reduced fat mayonnaise
2 tablespoons mango chutney, such as Major Grey's
1 tablespoon lemon juice
1 teaspoon curry powder, more or less to taste
1 cup shredded carrot
1 stalk celery, diced
2 tablespoons fresh cilantro, chopped
1 scallion, finely chopped or substitute 2 tablespoons chives
2 tablespoons dried currants or dried cranberries
12 ounces skinless, boneless chicken breast, cooked and cut into 1-inch dice
salt and pepper, to taste
6 cups baby spinach leaves, washed and dried
2 tablespoons toasted, slivered almonds, optional
*Meets Cardiac Rehab guidelines.
Preparation
In a large bowl, combine the yogurt with the mayonnaise, lemon juice, chutney, curry powder, carrots, celery, cilantro, scallions and currents. Stir well. Add the chicken and season with salt and pepper as desired.
On each plate, place 1 cup spinach leaves and top with a generous scoop of chicken salad. Sprinkle toasted almonds on top. Keep cool until ready to eat.