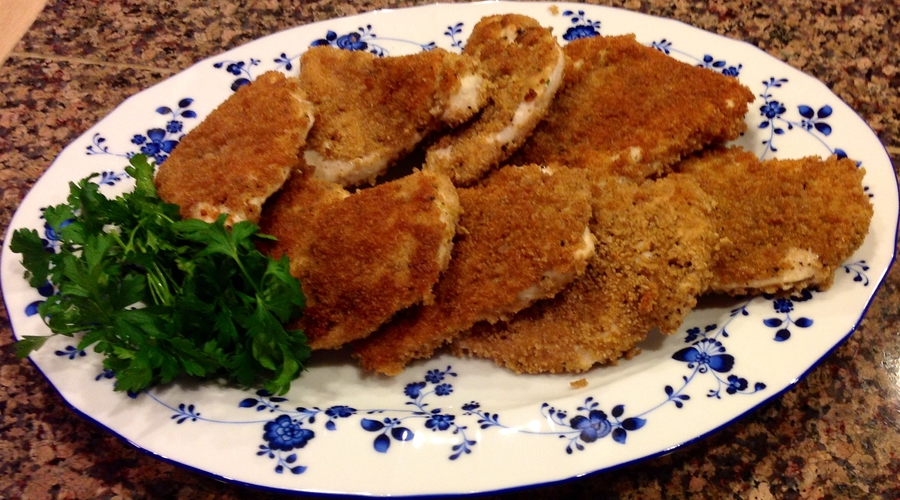 Ingredients
6 chicken breast, no skin, no bone
Salt and ground black pepper, to taste
1 large egg
1 teaspoon Dijon mustard
1 1/2 cups Panko or whole wheat bread crumbs
3 tablespoons extra virgin olive oil, divided
Preparation
Preheat oven to 350 F. Line sheet pan with parchment paper
Rinse chicken breasts and pat dry. Trim off excess fat. Cut each breast half into 3 sections; remove the thin end by slicing in half on the diagonal. Cut the thick end crosswise into two thinner medallions. Set the medallions in a single layer onto a piece of wax paper; cover with another piece of wax paper. Pound gently to even out the thickness of the medallions. Season with salt and pepper.
In a shallow bowl, whisk together the egg and mustard. In a second shallow dish, place the bread crumbs. Heat 1 tablespoon of the olive oil in a large skillet over high heat. Dip chicken pieces into egg mixture, then into bread crumbs to coat.
Cook in skillet in batches, about 3 minutes on each side. Wipe out skillet between batches. Add additional olive oil, by the tablespoon, as needed. Set chicken onto a parchment-lined baking sheet as it is cooked. Set aside.
When all the medallions are cooked, reheat them on the sheet pan in the preheated oven for 5-10 minutes. Chicken is cooked when a meat thermometer inserted into the thickest part of the breast registers 155F.
Serve warm.