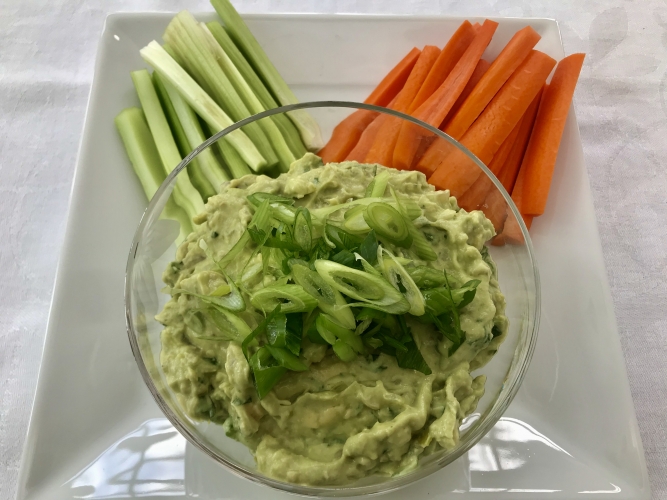 Ingredients
2 teaspoons avocado or olive oil
2 medium shallots, peeled and thinly sliced
3 medium scallions, white and pale green parts thinly sliced to cook - dark green parts thinly sliced and reserved for garnish
1 clove garlic, finely chopped
dash of salt
1 avocado, halved, pitted, peeled and coarsely chopped
1/4 cup plain Greek style yogurt or dairy free alternative
1 teaspoon lemon zest
1 Tablespoon lemon juice
dash of hot sauce
2 Tablespoons cilantro, chopped
Preparation
Heat oil in a medium skillet over medium heat. Add sliced shallots and cook, stirring often until slightly soft. Add sliced scallions and continue to cook, stirring often until they just start to become golden. Add garlic and a dash of salt and cook an additional minute or 2. Remove from heat.
In a medium bowl, add chopped avocado, yogurt, lemon zest, lemon juice and hot sauce. Stir to combine. Add shallot/scallion mixture and stir to blend but leave a bit chunky. Taste and adjust seasoning with additional salt or hot sauce if desired. Transfer to serving dish and garnish with reserved sliced dark scallion tops. Cover and chill until ready to serve.
Great with raw veggies such as sliced carrots, celery, cucumber, jicama, radishes, bell peppers.... Also good with tortilla chips or pita chips or as a garnish with tacos, quesadillas, nachos. Good with grilled chicken, fish or shrimp. YUMMM!!
Categories
Appetizer
Sauce/Dressing
Snack