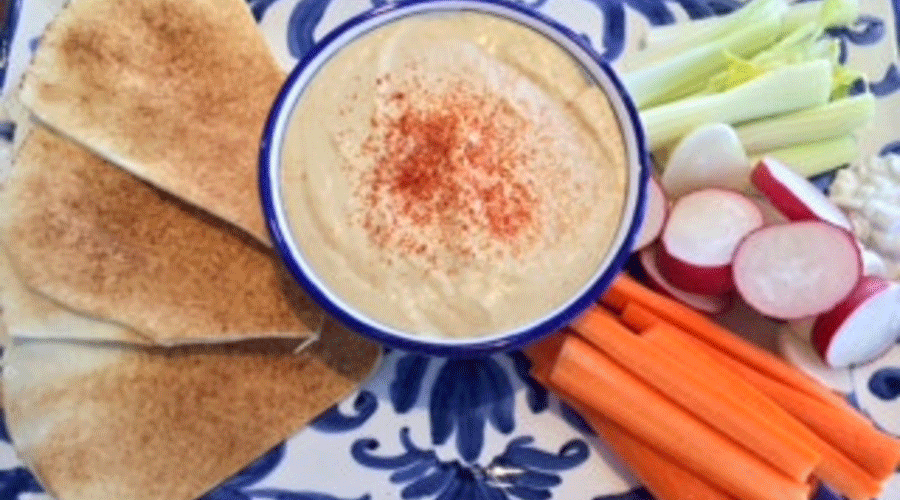 Ingredients
1-15 oz. can garbanzo beans, rinsed and drained
1 large garlic clove, peeled
2 tablespoons olive oil
2 tablespoons tahini
2 tablespoons lemon fresh juice
1 teaspoon lemon zest
1/2 teaspoon salt
1/2 teaspoon paprika
Extras: 2 tablespoons chopped fresh parsley for garnish
Meets GI guidelines.
Preparation
Add garbanzo beans to a food processor and blend until almost smooth.
Heat a small saute pan to medium and add olive oil and garlic clove. Cook garlic clove 3-4 minutes or until lightly browned on all sides. Turn off heat and let cool and remove garlic clove.
To the processor, add the tahini, lemon juice, lemon zest, salt, paprika and cooled garlic infused olive oil. Process again to blend until completely smooth. May add more lemon juice or water to achieve desired consistency. Adjust seasonings as desired.
Scoop into a small serving bowl and top with chopped parsley, if desired.
Categories
Appetizer
Sauce/Dressing
Side Dish
Snack
Plant-Based Protein
Vegetable
Dairy Free
Gluten Free
Quick and Easy
Vegan
Vegetarian