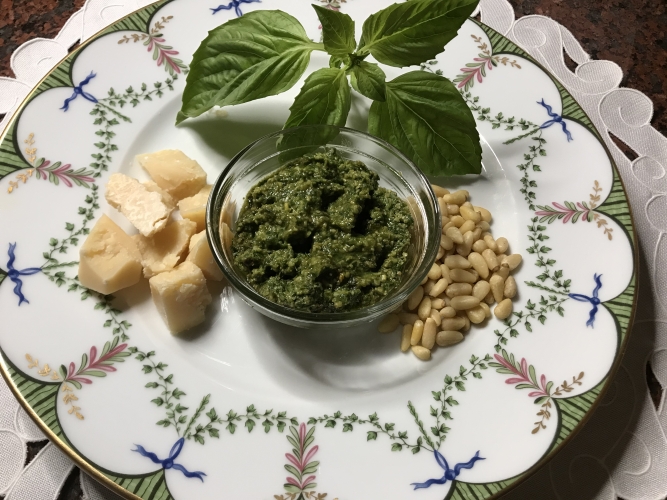 Ingredients
1 clove garlic
2 Tablespoons pine nuts
3 cups basil leaves
1 teaspoon lemon zest
1 ounce parmesan cheese, grated
2 Tablespoons extra virgin olive oil
salt and pepper as desired
Preparation
Warm a small skillet over medium-high heat and add pine nuts. Toast until fragrant and slightly golden/brown, stirring or shaking skillet and keeping an eye on this as nuts tend to burn easily. Remove from heat and allow to cool.
Place the garlic into the bowl of a food processor and process until finely chopped. Scrape down sides of bowl and add the basil and the toasted pine nuts - process until coarsely chopped. Add the lemon zest and parmesan cheese and process again until combined. Add the olive oil and process until fairly smooth. Season to taste with salt and pepper as desired. Transfer to jar of container and place a piece of parchment paper or wax paper directly on top of the pesto, then cover with plastic wrap or a lid to keep the air out so that it stays bright green. It will remain fresh in the fridge for about a 10 days or frozen for up to a year.
Delicious tossed into pasta, a wonderful base for pizza, is great to smear on a sandwich, or helps to dress up your favorite vegetables.
Categories
Gluten Free
Quick and Easy
Vegetarian