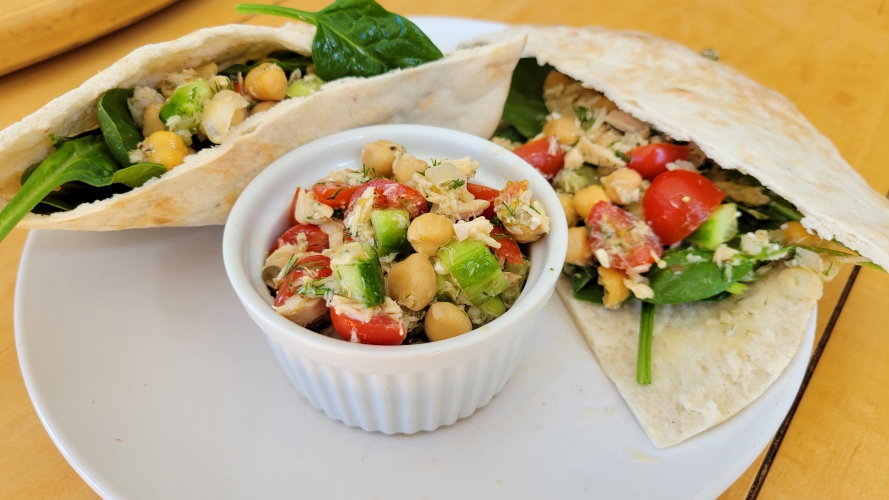 Ingredients
2 tablespoons fresh lemon juice
1 tablespoon nonpareil capers, rinsed and chopped
1 tablespoon shallot, finely chopped
1/4 teaspoon salt
1/4 teaspoon ground black pepper
1(15 oz.) can no-salt-added chickpeas, rinsed and drained
1 (7 oz.) can of chunk light or solid white albacore tuna in water, drained and broken into small pieces
1 cup cherry tomatoes, washed, dried and quartered
1 cup English or Persian cucumber, chopped
1/2 cup feta cheese, crumbled
3 tablespoons extra-virgin olive oil
3 cups baby spinach
2 large pita bread, cut in half and opened into a pocket
2 tablespoons fresh dill, chopped
Preparation
In a medium bowl, whisk together the lemon juice, capers, shallot, salt and pepper and let stand for 5 minutes.
Meanwhile, toss chickpeas, tuna, tomatoes, cucumber , feta and dill together in a large bowl.
Whisk oil into the lemon juice mixture until fully incorporated. Spoon about 4 tablespoons of the dressing into the chickpea mixture; toss to coat.
Add spinach to the remaining dressing in the medium bowl; toss to coat. Divide chickpea/tuna mixture evenly inside the 4 pita pockets and add spinach to each pocket until full. Serve immediately.
Categories
Dinner
Lunch
Salad
Sandwich
Fish/Seafood
Plant-Based Protein
Vegetable