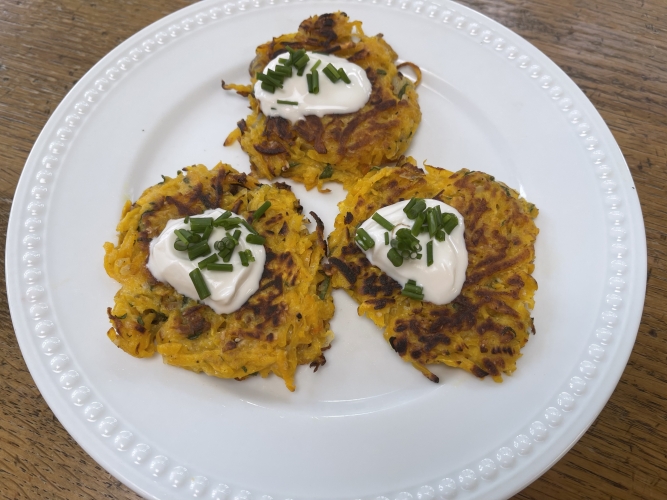 Ingredients
6 cups grated butternut squash (from a medium squash, peeled and seeds removed)
2 shallots, finely chopped
1/4 cup fresh sage leaves, thinly sliced or chopped
2 Tablespoons oat bran
1/4 cup all purpose gluten free or regular all purpose flour
1 teaspoon baking powder
1/2 teaspoon each salt and pepper, or as desired
1/4 teaspoon grated nutmeg (optional)
2 eggs, beaten
4 Tablespoons avocado oil or olive oil
Preparation
Line a large and a small baking sheet with parchment paper. Preheat oven to 350 F (if planning to serve them right away- otherwise, heat oven before serving as this can be done a few days ahead of time and re-heated when ready to serve). In a large mixing bowl, place grated squash, shallots, sage, oat bran, flour, baking powder, nutmeg, salt and pepper. Toss to combine after each ingredient to make sure that everything is well-distributed. Stir in the eggs.
Heat a large, non-stick skillet over medium high heat. Add a few teaspoons of avocado oil and heat until shimmering (but not smoking). Scoop 1/4 cup of the squash mixture in a 1/4 cup measure and place in pan, forming a patty by pressing the mound of mixture to flatten. Repeat until about 5 patties are in the pan - allowing a bit of space between each to give them room to brown and move around. Cook for about 6-7 minutes or until set and browned, then flip over with a spatula to cook on the other side, adding a touch more oil as needed - cook about 5 minutes or so or until nicely browned on both sides. Transfer cooked latkes to prepared baking sheet and set aside. Repeat with rest of the squash mixture, wiping out the skillet of crumbs between batches and adding oil to pan as needed.
When ready to serve, heat latkes on the baking sheet in the preheated oven until sizzling. Enjoy with your favorite toppings. Sour cream (or Greek-style yogurt), chives and applesauce are the most traditional, but feel free to be creative!
Categories
Appetizer
Breakfast
Lunch
Side Dish
Snack
Dairy Free
Gluten Free
Vegetarian