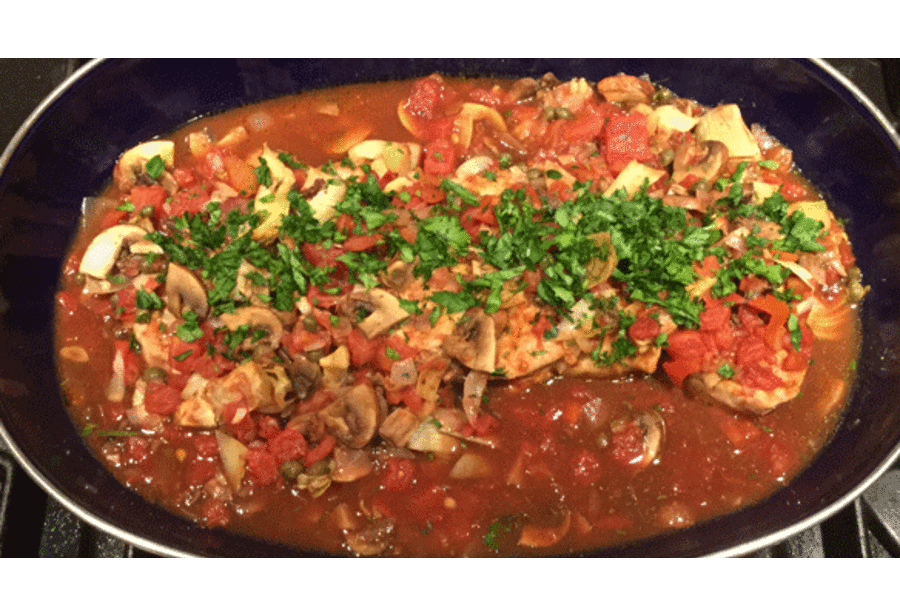 Ingredients
6 plump boneless, skinless thighs, about 2 pounds, well trimmed of visible fat
1/2 teaspoon paprika
Salt and ground black pepper, as desired
1 tablespoon extra virgin olive oil
1/2 cup chopped shallots
3 cloves garlic, finely chopped
2 cups sliced mushrooms, about 6 ounces
4 artichoke hearts,quartered, rinsed and squezed dry if in brine,
2 teaspoons fresh rosemary, finely chopped
14 1/2 ounces diced tomatoes, either fresh roma or sodium free canned
2 tablespoons balsamic vinegar
2 tablespoons capers, drained and rinsed
1 cup dry white wine
1/4 cup fresh parsley, chopped
Preparation
Rinse and trim the thighs then sprinkle them with paprika, salt and ground black pepper, as desired.
Preheat the oven to 350 F.
In a large nonstick skillet over medium high heat warm the oil. Sear the chicken thighs about 2-3 minutes per sideor until golden brown. Set aside in an oven-proof dish with a lid.
Lower the heat to medium and add the shallots and garlic, cook 1 minute or until fragrant. Add the sliced mushrooms and cook an additional 3-4 minutes or until they brown. Add the artichoke hearts, fresh rosemary, diced tomatoes, balsamic vinegar, capers and dry white wine. Bring to a full rolling boil for 5 minutes. Pour over the chicken thighs, cover, and cook in the preheated oven for about 15 minutes or until the sauce is bubbly and the thighs are cooked through.
Garnish with plenty of fresh chopped parsley! Serve over brown rice or accompanied with crusty whole grain baguette slices to mop up the juices!