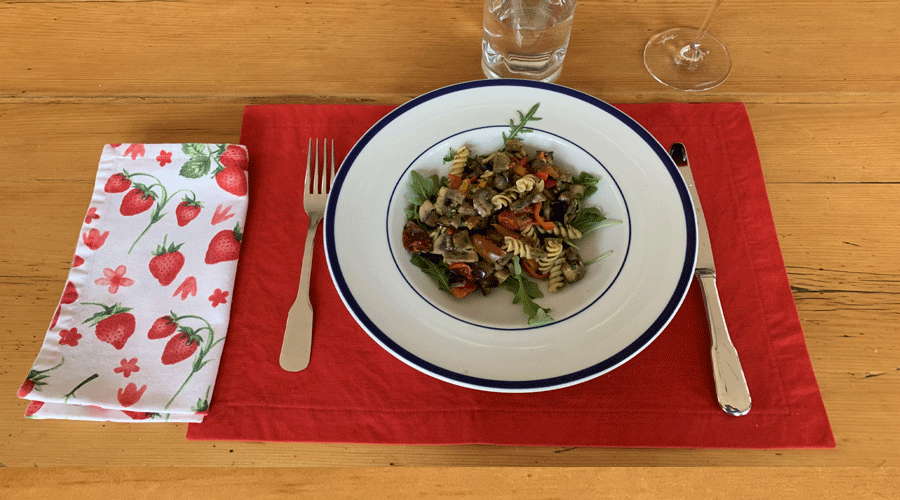 Ingredients
3 tablespoons extra virgin olive oil, divided
1 medium eggplant, diced, about 6 cups
4 cups button mushrooms, preferably cremini, sliced
1/2 teaspoon sea salt or as desired
1 red bell pepper, seeded and diced, about 2 cups
1 cup cherry tomatoes, halved
8 ounces bean based pasta, such as POW or BANZA spirals
1 cup reserved pasta water
3 cups baby arugula
BASIL NUT PESTO:
2 large cloves garlic, chopped
1/3 cup pine nuts, lightly toasted
1 ounce fresh basil leaves coarsely chopped, about 1 cup
1 tablespoon extra virgin olive oil
*Meets Cardiac Rehab/MetFit guidelines.
Preparation
Preheat oven to 400F. Line a sheet pan with parchment paper. Put a large pot of lightly salted water on to boil for the pasta.
In a large nonstick skillet or wok, warm 2 tablespoons of the olive oil over medium/high heat. Add the eggplant and saute quickly, mostly to coat it with the olive oil. Transfer eggplant to the parchment lined sheet pan and put it into the preheated oven.
Return the skillet to the heat and add the remaining 1 tablespoon of olive oil. Add the mushrooms and salt (adding salt to the mushrooms at the beginning of their cooking time brings out their flavor and results in the best texture!), saute 8 minutes or until they release their juices. Add the bell pepper and cook an additional 10 minutes. Add the tomatoes and continue to cook until the tomatoes soften, about 6-8 minutes more. By this time the eggplant should be nicely cooked. Add the eggplant to the vegetables in the skillet and keep warm while you make the pesto and cook the pasta.
Follow cooking instructions on the pasta package, except reduce the recommended cooking time by 1-2 minutes. This results in a firmer better textured pasta.
Meanwhile in a small food processor chop the garlic, add the pine nuts, chop again, then add the fresh basil and pulse until ingredients combine. Add the olive oil and pulse again, just to blend all of the ingredients.
When the pasta is cooked, drain, reserving 1 cup of the pasta water. Add the drained pasta to the vegetables, along with the pesto. Toss well, add enough of the reserved pasta water to produce some sauciness.
To serve divide the arugula between six plates, top with the pasta and enjoy!
Categories
Plant-Based Protein
Vegetable
Dairy Free
Gluten Free
Vegan
Vegetarian
Cardiac Rehab
MetFit
MHealthy