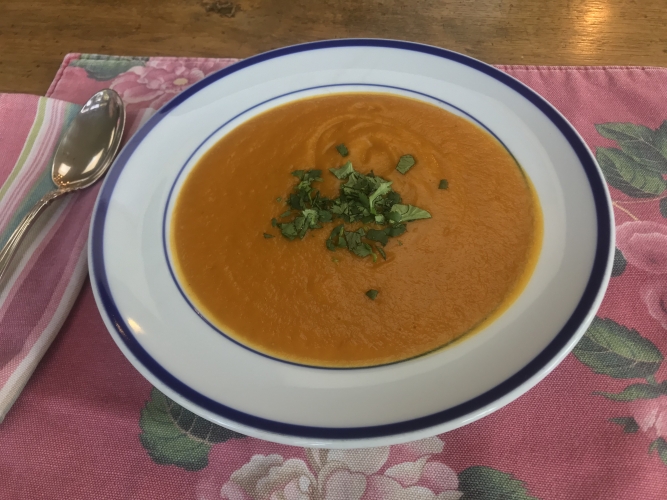 Ingredients
2 tablespoons extra virgin olive oil
1 medium onion, diced (about 3 cups)
2 cloves garlic, finely chopped
2 tablespoons fresh ginger, peeled and finely chopped
1 jalapeno pepper, seeded and chopped
2 teaspoons ground coriander
1/2 teaspoon ground nutmeg
2 large baked sweet potatoes, peeled and cut into chunks
4 cups low sodium chicken or vegetable broth
1/4 cup cilantro leaves, chopped for garnish (if desired)
salt and pepper to taste, optional
Meets Cardiac Rehab guidelines
Preparation
Warm olive oil in a medium sauce or soup pot over medium heat. Add onion and cook stirring often until soft. Add garlic and ginger and cook another minute.
Stir in jalapeno, coriander and nutmeg. Add sweet potatoes and broth. Bring to a gentle boil, reduce heat and simmer for 20-30 minutes. Remove from heat and allow to cool before blending.
Blend with upright or immersion blender (be careful when blending hot liquids). An upright blender will give you a smoother, silkier soup.
Season with salt and pepper as desired.
When ready to serve, re-warm in the original soup pot. Ladle into bowls and garnish with chopped cilantro, if desired.
Categories
Dairy Free
Gluten Free
Quick and Easy