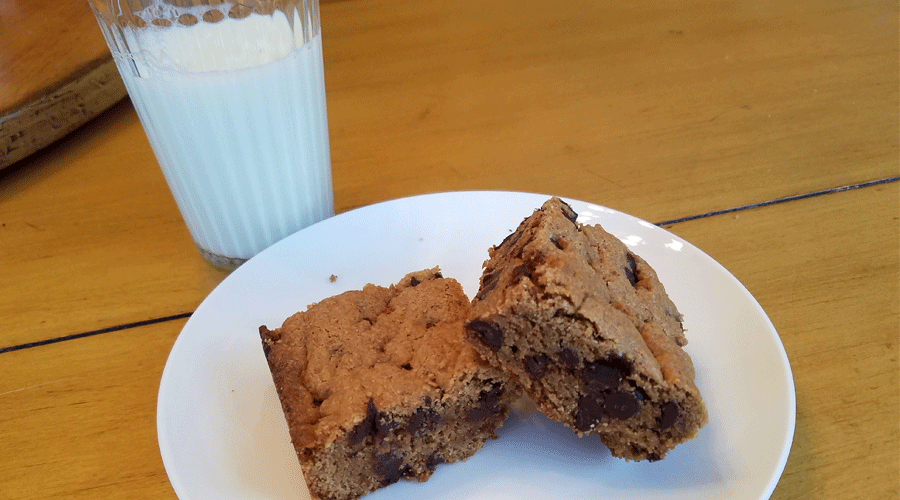 Ingredients
1/4 cup butter, softened
3/4 cup smooth or crunchy almond butter, or your favorite nut butter
2 large eggs
3/4 cup brown sugar, packed
1 teaspoon vanilla
3/4 cup quinoa flour (To make your own quinoa flour: Grind whole grains of quinoa into a powder in a clean coffee grinder.)
1 teaspoon baking powder
1/4 teaspoon salt
1 cup dark chocolate chips or pieces
1/2 cup dried cherries, chopped
1/2 cup pecans, toasted and chopped
*Meets GI guidelines.
Preparation
Preheat oven to 350 degrees. Line an 8 inch square baking pan with parchment paper, allowing for a slight overhang on opposite ends. Coat with cooking spray.
Beat butter and nut butter in a mixing bowl with an electric mixer until creamy. Beat in eggs, brown sugar and vanilla. Whisk quinoa flour, baking powder and salt in a small bowl. Mix the flour mixture into the wet ingredients until just combined. Stir in chocolate chips, dried cherries and pecans. Spread evenly into the prepared pan.
Bake until a toothpick inserted into the center comes out with just a few moist crumbs on it, about 45 min. Do not overbake. Let cool in pan for 30 min. Using the parchment, lift the whole panful out and transfer to a cutting board. Cut into 16 squares.
Does not meet MHealthy guidelines.