Damilare Adeyeri
Zumba
With his wide smiles and ever so positive attitude, Damilare is one of the most energetic and enthusiastic people you will ever meet! He believes exercise should be fun, and his classes are structured that way—to ensure that you have a great workout, experience abundant joy, and leave class with a boosted morale!
Nicole Arment
Zumba
I am an ACSM Certified Clinical Exercise Physiologist who is a firm believer in the "Exercise is Medicine" movement. My combined passion for health and exercise, as well as my 19-year dance background, led me to become Zumba Certified. My goal for each class is to not only break a good sweat, but have fun while doing it!
Diane Barbeau
Yoga
Natalie Berry
Chrissie Bingham
Yoga
What I love about teaching yoga is that its lessons surpass physical fitness but instead reacquaints the student with their body, breathing and thought patterns. The effects of this practice can, therefore, be felt off the mat, teaching the student how to breathe through everyday stress, anxiety, and challenges. 
Jennifer Colwell
Zumba
As an occupational therapist, educator, and dancer, I have a passion for promoting wellness through movement. I believe in fostering physical, mental, and emotional health through participation in exercise in ways that are safe, accessible, and meaningful to each individual. My specialties as a Group Fitness Instructor are Zumba, Zumba Gold, and Senior Fitness, and I strive to make every class challenging, safe, and fun for everyone!  
Wendy Dolen
Yoga
Les English
Strength Training, Boot Camp, Stability Ball, Circuit Training
"Your health is an investment not an expense. However, it will become an expense if you don't take time to invest in it."
Zsuzsa Erdi
Yoga
My name is Zsuzsa Erdi, I am an RYT 200, have 5 year of teaching experience, 20 years of practice, and I am originally from Budapest, Hungary. My hobbies are yoga, walking my dog, enjoying city life and art. Yoga is my tool to create a better quality of life for others and myself. 
Carrie Fraser
Yoga
As a yogi and an office worker, I am thrilled to be able to bring yoga to your workplace.  Whether you join in a vinyasa class or a restorative (gentle) class, the yoga will be a perfect counterpose to sitting at your desk.  There will be attention given to alignment in poses so that you can depend on your awareness of your own inner workings and keep yourself safe.  There will be attention given to the breath, so that you are able to learn (remember) the deep power of the breath.  There will be props used so that you are fully supported and have the best possible chance to access the benefits of your yoga practice.  Yoga is connection. Yoga is union.  Yoga is presence.  Whichever class you take of mine, I am committed to helping you experience this connection, this union, this presence during our times together. 
Megan Fuller
Yoga, Meditation
Yoga has been an important part of my own physical and mental growth, and the experiences I had as a student of Yoga inspired me to become an instructor. I specialize in meditation and physical rehabilitation, and I prioritize safe and slow progressions. I work hard to turn my classroom into a safe and inclusive environment, where our physical progression strengthens our minds to help overcome the challenges we face in every day life.
Colleen Greene
Zumba
Jenny Grone
Yoga
Dawn Harris
Strength Training, Boot Camp, Stability Ball, HIIT
I do my best to create different workouts each week to work the entire body and to keep my students from getting bored.
Lauren Henderson
Zumba 
Nancy Herlocher
Yoga
What I love about yoga is the great variety available to bring yoga to every"body".  There is a yoga for each person and one day I would love to open a yoga apothecary to help yogi explorers find the right fit in yoga class types.  I actively add to my yoga knowledge with extra focus on athletes as I am a marathoner.  Start your yogi basics with me and I can help you branch out your yoga tree.
Danielle Karsies
Strength Training, Boot Camp, HIIT, Stability Ball, Yoga, Zumba
Exercise has always been the most effective stress management tool for me and thus a priority. I became an instructor to be able to share this benefit with others and the camaraderie of classes makes exercise more fun. I have been a group exercise instructor for the past 16 years and have taught a wide range of classes from step aerobics and strength training to Yoga and Zumba.
Charlotte Kaye
My name is Charlotte Kaye and to me mindfulness is awareness of the present moment without judgement. Meditating allows us to formally practice this skill so in our daily life we can stay centered, relieve stress, and be more present at work and in our personal lives.  I often employ mindfulness and meditation in my own life and the lives of my coaching clients as it is a practice that gets us closer to who we truly are.
Brett Knight
Circuit Training, HIIT
I'm a certified personal trainer with more than seven years of health and wellness experience. My main goal for teaching is to spread knowledge, energy, and fun while creating a safe encouraging atmosphere for fitness.
Craig Kotajarvi
Abs & Back, Circuit Training
My approach to helping others improve their overall health and well-being is by providing a progressive, fun, and balanced workout.  Every class provides exercises for improving strength, endurance, balance, and flexibility for all major muscles and muscle tendon groups.  I provide comprehensive instructions, modifications, and motivation for ALL participants to be successful.
Donna Kujat
Strength Training, Stability Ball, Abs & Back, Boot Camp
Jeff Kurtz
Boot Camp, Strength Training, Abs & Back, Strength & Stretch
Your health is serious, but your workouts don't have to be! With six years of professional fitness experience, I'm here to deliver high energy and result driven workouts.  I want you leaving smiling, educated, and ready to tackle the world!
Mariah Lewis
Strength Training, Abs & Back
Joe Mason
Kathy Metta
Yoga, Yogilates
Camille Piner
Zumba
I love teaching Zumba because it is a great workout that doesn't feel like one! Zumba is a dance-based fitness class set to Latin and pop music – all you have to do is follow along in whatever way feels best for you. I try to structure my classes so people of all fitness levels and backgrounds can catch on quickly, be challenged, and have fun!
Diana Rose
Strength Training, Circuit Training, Stretch and Strengthen
I teach strength-based classes (abs and back, circuit, stability ball, strength training, stretch and strengthen). I love helping people get stronger, fitter, and more confident!
Lori Sella Armstrong
Strength Training, Boot Camp, Spinning
I deliver hard-core classes that motivate you to push your limits and leave you coming back for more! She enjoys sharing her passion for cycling, running, and overall fitness with a diverse client base, and looks forward to helping you achieve your strength and endurance goals.
Phyllis Taylor
Cardio Drumming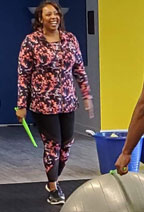 I'm a dancing and drumming diva! I got hooked on Cardio Drumming after my very first class. Enjoying how cardio drumming combined my love of dancing with exercise, I eagerly became a certified instructor 6 months later. In addition to drumming, I love Kick Boxing, Zumba, line dancing/hustles and partner dancing (Ballroom, Bop, Latin Hustle, Steppin', Salsa). For me, it's all about fitness, fun and feeling free to let yourself try new things!   
Dominique Theophilus
Yoga
Amanda Webster
Zumba
For the past nine years, I have taught dance technique classes in ballet, pointe, tap, hip hop, jazz, and musical theatre for ages 3 to adult in the metro Detroit area.  After obtaining my Zumba Instructor Certification in 2011, I have enjoyed using my dance background and passion for movement dynamics to motivate students of all ages to achieve their fitness goals through the exciting rhythms of Latin and international dance.
Michele Wilkins
Cardio Sculpt, Strength Training, Sculpt, Stretch & Strengthen
My approach is to provide my clients with safe and effective exercise classes that are challenging, diverse, and fun, to help them achieve their fitness goals and maintain a healthy lifestyle.  Each of my classes includes as many fitness components as possible within that given format.  These components are cardiovascular endurance, muscular strength, muscular endurance, flexibility, body composition, balance, and coordination.