IMPORTANT NOTICE: Due to the COVID-19 epidemic, the Back Pain Triage Program is being paused and will not be scheduling any patients at this time.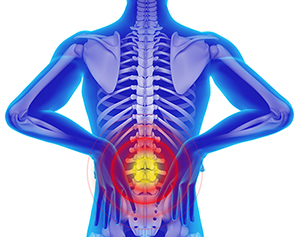 If you recently began experiencing non-work related, lower back pain and are not sure what to do next, contact the Back Pain Triage Program.
This quick response service for U-M faculty and staff includes a free evaluation and consultation by a health care provider and access to resources that can help to relieve your pain and prevent future occurrences. Call today for fast scheduling.
The Back Pain Triage Program is a collaboration between MHealthy and Occupational Health Services.
What is Acute Back Pain?
Acute back pain is relatively short-term pain, stiffness and/or muscle tension usually along the lower back. It typically lasts a few days to a few weeks, tends to resolve on its own with self-care, and usually doesn't result in a lasting loss of function.
Gain Access to Pain Management Services, including:
Assessment and consultation with a health care provider
Educational resources
If appropriate, referral to physical therapy
Free specialized back pain exercise classes 
Online resources
Back pain self-management support groups
Cost:
The evaluation and consultation by a health care provider is free.
Specialized exercise classes are free.
Set Up an Appointment:
To schedule an appointment, call us at (734) 936-7465 or complete this form.
Two Locations Available:
For your convenience, the Back Pain Triage Program now has two locations:
NEW! North Campus Research Complex (NCRC), Bldg. 16, Room B-032C
University Hospital South, inside the Wellness Center on the 8th floor. Once you get to UH South, take the #9 elevator to the 8th floor. The Wellness Center is directly in front of the elevator. Please ring the blue and white doorbell to let us know you have arrived.  
Is This Program for Me?
When in doubt, call us. We can help determine whether you should come in or take other measures. 
However, this program is for non-work related acute lower back pain. If you think your pain is work-related, please contact Occupational Health Service.
Testimonials:
Chronic pain:
"I was taking Ibuprofen regularly to help with the pain, especially during flare-ups. At the end of my evaluation, I couldn't believe my pain was gone but was even happier that I was in control of my back pain by learning how to "move in the right direction" so I can treat my own back pain in the future." 
- Back Pain Triage Program participant with a 1 year history of mild low back pain that started after changing his workout routine
Acute pain:
"I am in pretty good shape – I am an active runner and practice hot yoga regularly – and that's why one day when I threw out my back performing the smallest of movements, I was in shock! I thought maybe I had overarched in a yoga class, so I was avoiding arching completely. However, after I visited the triage, it turns out bending forward was the problem and arching my back into a stretch actually helped! The exercises they gave me worked wonders and within a couple days I was back at my normal exercise routine."
- Back Pain Triage participant
"I couldn't believe I had back pain – I thought I was too young to have it and was scared it might be permanent. I don't like taking medications but the pain was so bad I was walking funny. It was a huge relief that my pain improved within just 30 minutes of movement and I was so glad to get a PT referral and not a pain medication prescription." 
- Back Pain Triage participant with 5 days of back pain; participant was unable to identify a cause of the pain
Acute on chronic pain:
"I have feeling in my left thigh again! After months of numbness in my thigh and occasional tingling in my left toes, I wasn't sure the feeling would ever come back. Now I have feeling and I know what movements to do to help for future episodes." 
- Back Pain Triage participant with a history of sciatica, who was seen after a recent and prolonged flare up of symptoms
Pain free at time of evaluation:
"My pain was gone before I had my appointment, but I still went because I was hoping for some stretches and maybe strengthening exercises. I'm glad I went! I felt so relaxed and limber after the stretches and exercises, and I got strategies to reduce future re-occurrences." 
- Back Pain Triage participant