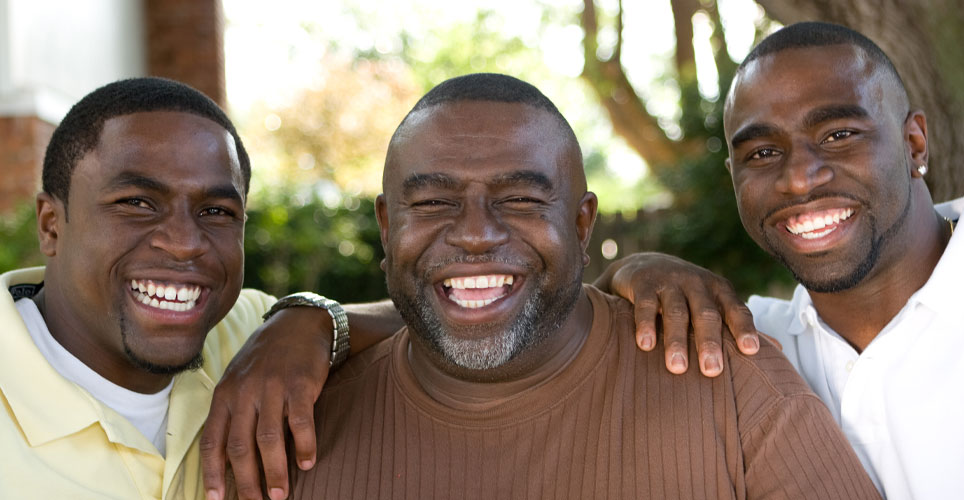 It's fitting to celebrate Men's Health Month in the same timeframe as Father's Day.
Recognized each June, Men's Health Month is a reminder to dads, brothers, husbands, sons and grandfathers to make their health a priority.
Resources include online messaging and educational toolkits from Men's Health Network, a national nonprofit organization, to alert boys and men to best health practices and disease awareness. The campaign is offered in conjunction with the U.S. Centers for Disease Control and Prevention (CDC).
A Guy Thing
Although all should focus on the basics of good health – regular physician check-ups, nutritious eating, moderate physical activity and mental health awareness ­– men are susceptible to certain conditions:
Heart disease. According to the CDC, cardiac disease accounts for one of every four male deaths in the U.S. High blood pressure, a risk factor for heart disease, is more prevalent in younger men than other genders.
Certain cancers. Men age 50+ are at the highest risk of developing skin cancer due to more sun exposure and less visits to their physicians. And nearly 16 percent of men uses tobacco – yes, those cigars count – making them prone to developing cancers of the lung, tongue and throat, as well as additional organs.
Alcohol-related disease. Of the 88,000 Americans who die in alcohol-related events each year, 62,000 are men. Because excessive alcohol use is linked to unpredictable behavior, it also factors into another risk – unintentional injuries. Men are more likely to be injured in auto and motorcycle accidents, in addition to home and social incidents.
Mental health illness. Although daily stressors affect all genders, men are more hesitant to initiate mental health care. And, according to the National Alliance on Mental Illness, they are more likely to die by suicide.
Prostate conditions. More than 32 million men have prostate conditions that affect their daily living, including cancer, enlarged prostate and prostatitis. Each year, 230,000+ men are diagnosed with prostate cancer, the most common malignancy after breast cancer.
Resources to Help
Attention to a healthy lifestyle begins by establishing a relationship with a family doctor. Check the Blue Cross Blue Shield of Michigan or the Physicians Health Plan provider directories to find one in your insurance plan's network.
All U-M Health Plans cover annual preventive visits at 100 percent with no cost share. If in-person appointments still make you uncomfortable, no worries: Telehealth in-network medical visits conducted through your computer or smart device are covered with no cost share through June 30, 2020.
Establishing a baseline of your health will help you and your doctor set goals for a healthier lifestyle. Here's a complete list of screenings for all ages covered through
U-M's Health Plans.
Help from MHealthy
Not sure where to start? MHealthy offers a number of programs to improve your physical and mental health, whether it's a virtual meditation class, tobacco cessation program or tips for your aching back.
MHealthy also offers an alcohol management program to help assess your habits, whether your goal is to reduce consumption or stop drinking entirely.
Workplace Fitness for All
If you're not quite ready to go back to the gym, you can work up a sweat with virtual workouts through Working at U-M Workplace group. From HIIT cardio, to strength training, to yoga and guided meditation, your daily dose of endorphins is waiting – at no charge. All you need is a bit of space and a smart screen!
Go Blue for Men's Health
You can show your support on Friday, June 19, Wear Blue Day. Take a photo of your group wearing blue, post it with a #ShowUsYourBlue hashtag on social media, and you'll spread the word about Men's Health Month initiatives.