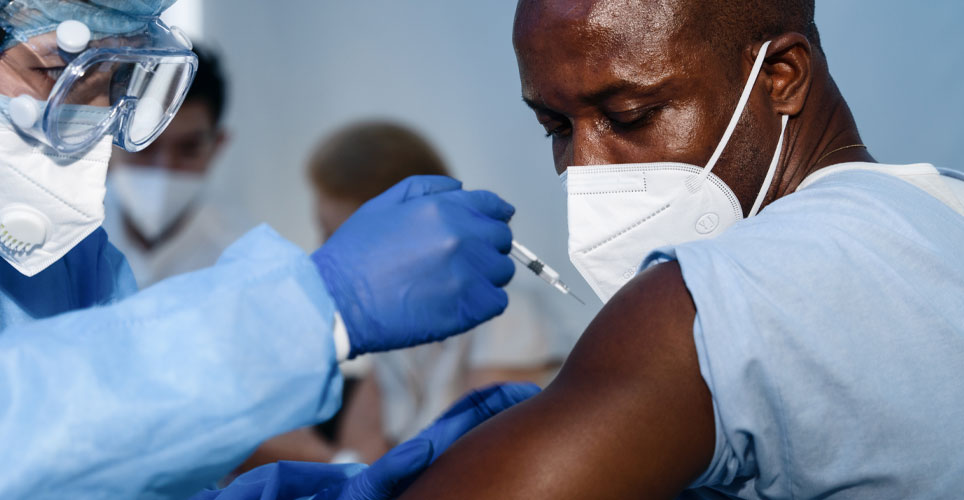 As COVID-19 infections have surged through Michigan, it's more important than ever to have a plan for your vaccination and continue to use personal protective measures.
Vaccine Available to All Age 16+
All Michigan residents age 16 and older are now eligible to receive the COVID-19 vaccine as supply allows.
Appointments are required if you receive your vaccination through your health care system, such as Michigan Medicine. Your system will contact you when vaccination appointments are available. For more information, visit your health care system's website.
You may increase your chances of receiving an appointment by registering with your local health department, retail pharmacies, and alternate vaccination sites. Federal mass vaccination sites and local "pop-up" vaccination sites continue to be offered as more vaccines are received. You'll be contacted when your appointment is available. 
Here are additional tools and resources to help you sign up to receive the COVID-19 vaccine.
In addition, community pop-up testing sites take place daily across the state.
All veterans also are eligible to receive the COVID-19 vaccine from the VA Ann Arbor Healthcare System by appointment, as supply allows. The SAVE LIVES Act signed into law March 24 authorizes the Department of Veterans Affairs (VA) to furnish a COVID-19 vaccine to all veterans, spouses and caregivers regardless of their VA health care enrollment status. Sign up to receive the vaccine at the VA Ann Arbor Medical Center. People without internet access should call the VA Ann Arbor Healthcare System at (734) 222-7100.
Paid Release Time for Vaccination Appointments
As of March 21, you may be eligible for paid release time to receive your COVID-19 vaccination. For details, visit COVID-19 Information for Employees.
Protect Your Vaccine Card
You'll be given a COVID-19 vaccine record card after you receive your first dose. These cards indicate which vaccine you received and the date you received it. Bring your card to your second vaccination appointment.
To protect your personal information, the Better Business Bureau and the U.S. Federal Trade Commission have issued public warnings not to post images of your vaccination card on social media. It's important to protect your card, as U.S. airlines require proof of vaccination to fly and other industries may follow suit. Don't laminate your card, however, as you might later require a booster shot. It's better to keep your card in a plastic, transparent sleeve like those used with lanyards and passports.
PPE Reimbursement from Health Care FSA
On March 31, the Internal Revenue Service (IRS) released Announcement 2021-7 confirming that, if you purchase personal protective equipment (PPE) such as face masks, hand sanitizer and sanitizing wipes, you can claim these supplies as qualified medical expenses if used for the primary purpose of preventing the spread of COVID-19. Expenses incurred on or after Jan. 1, 2020 can be reimbursed by a Health Care FSA. COVID-19 home test kits are also qualified medical expenses. Learn more about expenses eligible for reimbursement from a Health Care FSA.
In addition to PPE, experts encourage diligence in following standard measures to protect yourself and others. As of April 12, hospitals in the Ann Arbor-Detroit area reported capacity at 90 percent, with about 15 percent of patients receiving treatment for COVID-19.
If you experience symptoms of the virus, call your family physician immediately for guidance regarding testing and treatment.
For More Information
For more details about COVID-19, go to Michigan.gov/coronavirus.